Table of Contents
Facebook Ads vs. Google Ads
Facebook is the most popular social network worldwide, with about 2.89 billion monthly active users and in the United States alone, Facebook makes up over 71 percent of monthly social media visits. The other digital juggernaut, Google, receives 5.6 billion searches per day and is the most visited website on earth.
So of course, it's in your best interest to learn how to advertise on the two platforms, but if you're just getting started, you may be wondering what the differences between them are.
To summarise: Facebook Ads is an ad platform created for paid social campaigns run on Facebook, while Google Ads run paid search and display ads. Each platform generally targets users at different stages in the buying process. Google Ads helps you reach new customers, while Facebook helps new customers find you.
As Facebook is a social media platform, its users aren't usually actively searching to buy products. They do, however, use it to explore and share their interests, making it the perfect place for users to discover your brand, especially if you believe your product may not be on the top of a user's shopping (aka search) list. That's why Facebook is great for top of the funnel marketing. Additionally, Facebook is a great option for retargeting ads based on a user's past website visits.
Meanwhile, Google is first and foremost a search engine processing approximately 63,000 search queries a second. These searches can land on any stage of the buyer's journey, but certain keywords signal a high purchase intent (though some targeting options can blur the lines if you dig deeper).
For example, if I search "coffee mug price" or "best coffee mug," this indicates that I'm interested in buying this product. With this in mind, marketers can use Google Ads to reach users they know are near the bottom of the funnel.
What makes Facebook dynamic ads unique?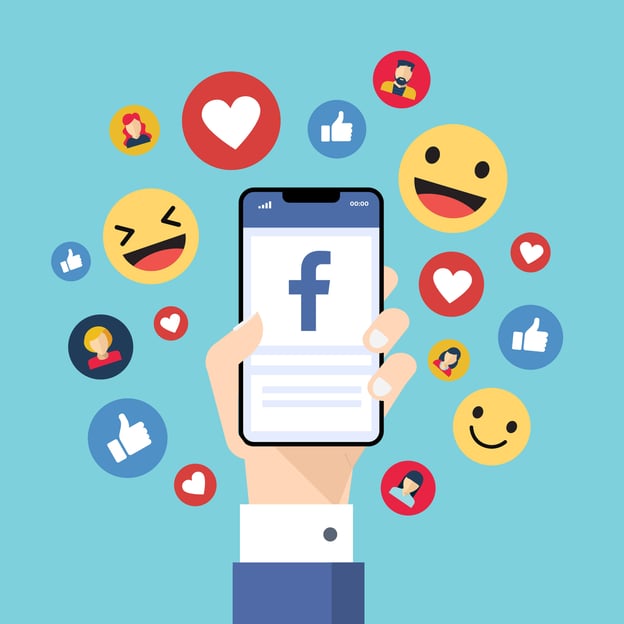 Facebook dynamic ads are similar to other ads created on Facebook, Messenger, Instagram, and the Audience Network, but instead of creating each individual ad for each product, you create an ad template that automatically uses details and images from your data feed.
Dynamic ads use your Facebook pixel (a code you add to your site) or SDK (used on mobile apps to track user behaviour) to show ads to users who have already shown interest in your company through their actions on your website.
There are two different types of targeting options for dynamic ads on Facebook:
DPAs: Dynamic Product Ads retarget customers who have visited your website or app and encourage them to complete the action.
DABA: Dynamic Ads for a Broad Audiences target customers who haven't visited your website or purchased from your business, but may have shown interest in something similar to what you're offering.
There are a few key benefits to dynamic ads, including:
Since Facebook dynamic ads are personalised, the audience is generally more receptive, leading your ROI (return on investment) to increase considerably. In fact, according to Hubspot, Facebook was the paid channel with the highest ROI in 2019. In addition, the CTR (click-through rate) and conversion rate are typically much higher with dynamic ads than with static ads (ads that can't change based on user behaviour).
What is cross-channel marketing?
Cross-channel marketing is a strategic digital marketing technique that engages multiple channels connected to one another to reach customers. The channels extract information about each customer and share the data between each other. This offers a more seamless transition from channel to channel and provides customers with a cohesive experience when interacting with a brand. Examples of cross-channel mediums include social media, email, mobile apps, SMS, and more.
The perfect cross-channel strategy for Facebook Ads and Google Ads
Cross-channel marketing with Facebook and Google is a must. Here is a list of ways you can use the complementary platforms to your advantage.
1. Use Facebook interest to increase your Google conversions
If you run a good Facebook branding campaign, the number of buyers likely to search for your brand on Google will increase. By using Facebook to draw more store brand searches and then Google to seal the deal with a cunning remarketing offer, you can take advantage of both platforms together to increase your conversions.
The reason this is effective is because people tend to google a brand to learn more about it rather than clicking on a Facebook ad button. So the concept here is to use Facebook to reach a broad audience that you can later convert with Google search campaigns by using branded keywords.
The main reasons you should bid on branded keywords in Google Ads search are:
they're cheap and have a higher chance of conversion
to manage your traffic better
to dominate search pages with PPC and SEO
to obtain more ad clicks while increasing your visibility
2. Use Facebook retargeting campaigns to target Google search ad clickers
No one can deny that retargeting campaigns with Facebook Ads and Google Ads are extremely effective. One of the most important strategies your marketing team should be capitalising on is using Facebook retargeting campaigns to target Google search ad clickers. This method ensures that these ads contain exactly what the buyer was initially searching for.
To accomplish this, you'll need to create Facebook retargeting campaigns that target different segments. These will be based on product or landing pages that the buyer has clicked to through a search ad. For this, you'll need a well-rounded understanding of Facebook custom audiences.
3. Combine Facebook and Google Shopping to reach more conversions
By now, it should be clear that you should use Facebook to engage with your potential buyers while the best use of Google is to convert them into customers. Potential customers perusing on Google Shopping have a much higher buying intent than average traffic. By combining these advertising platforms, you can reach audiences on both platforms at the same time. You can then retarget the Google Shopping users who have shown interest in your items, but haven't bought anything yet, with a Facebook campaign.
You can accomplish this by using the same UTM codes for your Google Shopping campaigns and for URL visits in your Facebook campaigns.
How to enhance cross-channel marketing with product data
Now that we've gone through different ways for you to improve your cross-channel marketing skills, it's time to take your marketing expertise even further with product data.
Product data is great, because it allows you to see the performance of each of your products through metrics like margin, revenue, and number of transactions, enabling you to find your best-selling products, your low performing products, and much more. Below are a few best practices for using product data.
Use product data to compensate for lost data
Currently, advertising platforms like Google and Facebook rely heavily on user data taken from users' online behaviour to curate personalised ads. However, the era of scraping individual data by following users through apps and across the web is about to end. Firefox and Safari have already discontinued third-party cookies and Google is following their lead, with Chrome's sunset of third-party cookies beginning in 2023. In addition, Apple implemented opt-in app tracking with their iOS 14.5 update. These user data policies, along with GDPR regulations, are changing the way businesses are able to operate online.
And as more data privacy policies roll into place, advertisers will continue to lose more signals. That's why it's essential that marketers capitalise on additional sources of information, like product data, to sidestep the issue of consumer privacy. Product data accomplishes this by looking at signals from a complementary angle and concentrating on:
Business attributes of the product (margin, return rate, stock levels)
Product identifiers (EAN, SKU, etc.)
Marketing performance of products (marketing channel, ad spend, conversion rate, CTR)
Product movement (deadstock, new arrivals, popularity)
Cross-channel data (such as noticing a certain item is performing well in Google Shopping, but has a low impression share on Facebook)
As product data has nothing to do with individual user data, your marketing team will spend less energy abiding by changes to consumer data privacy policies, making product data a wise investment for the future.
Use product data to add another dimension to your product campaigns
Product data also unlocks strategic promotion capabilities. One example of this is "Bestsellers." Bestsellers are your top-performing items in terms of total revenue (usually your top-selling 20% of products) and are effective for top of the funnel prospecting. Generally, the top 10% of products in your catalog generate about 80% of the revenue, so if your goal is to scale, you need to locate your bestsellers through product data and ensure they're the first items your new customers see.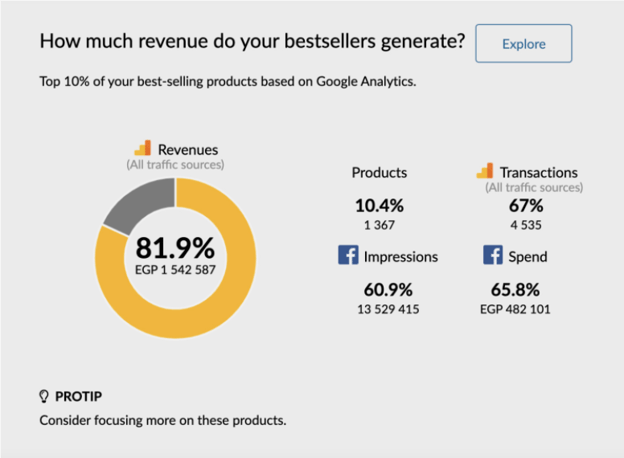 Product data also helps you locate your non-bestsellers, known as the longtail, in your catalog. From this segmentation, you can find your non-converting products, or deadstock and exclude them from promotion.

To read more about the strategic promotion capabilities that come with product data,

check out this article

.
Use product data to advance dynamic ads
Another huge plus to product data is that it is highly beneficial for your dynamic ads. We found that Facebook's algorithm concentrates around 50% of all impressions on just 1% of the products in a catalog. We also found that these products are not chosen based on their ROAS (return on ad spend) or revenue distribution.
This happens because Facebook draws from your entire catalog when selecting which items to promote, rather than choosing from specific product sets. Facebook feeds off of data, so the more they promote one item, the more data they get from that one item, causing them to continue to promote it. While that's good for that one particular item's performance, it leaves your other items out of promotion.
To put an end to this cycle and enhance machine learning for dynamic ads, you can use product data to create separate product sets with their own budgets and bids based on your goals. The algorithms will pick from the selected groups instead of from the entire catalog, ensuring that each one of your products gets promoted.
Furthermore, product data naturally lends a hand in the advancement of the machine learning required for Facebook Discovery Commerce, by offering knowledge into which products you should keep promoting, which products you should quit promoting, and what your most popular channel for each product is.
Use a Product Performance Management (PPM) platform to unlock the full potential of your product data
If you are like most marketers, you probably don't have a single source of truth capable of offering product data and simultaneously holding all of your pre-existing custom and native integrations.
That's why the ROI Hunter PPM platform, was specifically designed to link e-commerce retailers to product performance data and enable them to use it effectively with their pre-existing data.
Using the PPM platform's unique tool, Product Insights, you can gather product data (stock levels, chance of return, margin, etc.) from Google Ads, Google Analytics, Facebook, and custom sources, and combine it, along with your product catalog, into a single source of truth. You can then use these metrics to filter your catalog, and create specific product sets based on your goals.
If you're interested in learning more about the PPM platform's efficacy, take a look at how Imaginarium used Product Insights to enhance their dynamic advertising campaign, leading to a 115% jump in their ROAS (return on ad spend).
You can also take a peek at how KFC South Africa used Product Insights to improve their dynamic ad campaign, boosting their ROAS by 89%.
To learn more about the PPM platform's proven success with name brand companies, take a look here.
Final thoughts
While Facebook and Google are competitors, you can create a symbiotic marketing relationship between the two through utilising cross-channel marketing tactics. Just remember that Facebook Ads is the best place for users to discover and interact with your brand and retarget your ads, while Google Ads is the perfect place to execute conversions.
To take your marketing expertise one step further, you should use product data to combat the loss of user data, to add another dimension to your product campaigns, and to improve your dynamic ads. In order to take full advantage of product data in your online advertising strategy, you should invest in a Product Performance Management platform.
That's it. Now you have the map to become the marketing genius of your dreams. To learn even more about how to ensure your dynamic ads promote the right products, check out this nifty e-book.