TL:DR Slideshows have always been a low cost, quick alternative video ads. We have a new feature that will allow you to create beautiful slideshows carousels directly from your product feed and at scale for Dynamic Ads.
Using Dynamic Slideshow Ads to the Max
You can now show multiple images of your products in the form of a slideshow for your Product Catalogue campaigns. The results of slideshow are great but Facebook doesn't allow you to edit the looks of the slideshow at all and your feed has to have a special format. ROI Hunter comes to the rescue with Dynamic Slideshow Editor.
Our editor lets you create slideshow templates that we then apply to your whole Product Catalogue. So, you can create thousands of product slideshows all at once and deploy them using the Product Catalogue Sales objective for both retargeting and prospecting campaigns. Sounds awesome, right? So let's take a look at the possibilities that this gives you!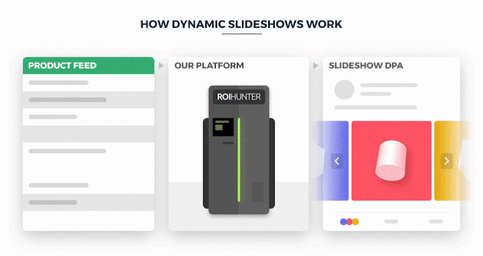 Showcase Your Product Images
You take multiple photos of your products so that you can show them on your website, right? This includes various angles of your goods, showing included accessories, models wearing the clothes or anything else that underlines the function. More quality imagery gives the customers confidence in their purchase. So why not put those pictures to use with slideshows? All you need is to include these pictures in your product feed and fire up the Slideshow editor. Show off more of the intriguing details of your product in one slideshow.
Add Call To Action
Another beautiful use case is to add a call to action slide after a photo of your product. Or you can promote your current campaign. Slideshow lets you use more space to get your message across. Is there a special promotion? Show it with a banner! Are you giving to charity? Give people reasons why they should buy the product in your store!
Share More Information About Your Product
Slideshows are amazing for highlighting features of complex products. Imagine selling real estate, cars or vacation packages. There are so many details that are hard to fit into a single image. And slideshow enables you to expand the space of your ad, so you can tell the whole story!
Save Time
With our slideshow DPAs, it is possible to create slideshows at scale and in minutes. This is because all of the necessary aspects needed to create a slideshow are in one place. With a few simple clicks, you can create stunning moving visuals.
If you would like to find out more about Slideshow Dynamic Product Ads and other time-saving product feed solutions, then contact a representative here. If you are already a client, then there's no need to wait. Start using Slideshow DPA now.