We have spent over one billion dollars on Facebook Ads, together with e-commerce clients from all over the world. Most of these clients have the same goal: scale their campaigns. Everybody wants to grow their business while keeping a profitable ROI. Over the years, we've seen most of the budgets shift to dynamic ads, because that's where the potential for sustainable scaling lies.
The biggest draw of dynamic ads lies in their "automatic" nature. It seems there is nothing to be set up: upload a catalogue, set the budget and launch the ads; everything else is decided by the algorithms. It either works for you or not.
Well, that's not what we've learned. When you really start to dig beneath the surface, there's actually a lot you can influence, and once you've learned how to tweak the campaigns, the opportunity for growth in dynamic ads is pretty much endless.
Here are the top three learnings that form the foundation for our product .
1. Product is the creative
People are shopping constantly nowadays. They are always ready to be sold to, and always ready to buy. You can inspire them to take action by showing the right product or the right deal. (Check out our other article on this topic - Discovery Commerce).
Dynamic carousels are formats focused on direct response with relatively short conversion paths. The buyer has already made their decisions before even reaching your website. By controlling the quality of the products uploaded to your catalogue, you directly influence your sales performance.
Image
The first thing you should do is to consider how your products look in the carousel.
Use high quality photos
Consider including more angles or detail shots and make a collage.
Make your products stand out by using creative overlays - branding or colorful framing helps to draw user attention to the product itself.
Finally, highlight the USP of the product. if you are offering a bargain, include the price before and after.
If you pride yourself on manufacturing locally, put a little flag in the image. Free Shipping? Say it!
Product Selection
Once your images are looking great, It's time to start thinking about which products you're including in your ads: people will buy the things you show them. Don't rely on users taking a lot of time to browse through your whole catalogue; help them along by including the items you really want to sell.
The best example I can give is related to price points: When you promote too many items from the low price buckets, your revenue will suffer because of low AOV (Average Order Value). By excluding low AOV products from promotion, you can run a more profitable campaign with the higher priced SKUs that remain.
Focus on creating product segments that represent your company goals. The products you display speak for your brand just as much as any other creative asset.
2. Algorithms only promote a small fraction of your catalogue
The product selection advice above only gets more impactful once you understand how the Dynamic Ads algorithms work beneath the surface. Here is the kicker: 80% of your impressions will, on average, be spent on a mere 5% of your catalogue.
Many advertisers think their catalogue will be promoted equally. Others believe that only the best performing products will be featured. Unfortunately, neither is correct. Dynamic Ads work in a similar fashion as regular ads, with a small difference: products are the (ad) creatives.
Creatives always need some testing budget to determine which version is driving the best performance. Now imagine you have thousands of creatives you launch all at once. Let's say you need to spend 10 USD per creative for fast, meaningful testing. That's easily tens of thousands of dollars you're spending just to test before launching a proper campaign!
As an advertiser, you usually want to see results ASAP, right? To do that, algorithms will quickly settle on the few products (creatives) which drive the "best possible" results. Spending more of your budget on tests is always risky, so the algorithm will be fairly conservative with the product selection and will only put a fraction of budget towards testing new products.
From the data we've collected, the typical distribution of spend is that 20% of the promotion's budget is spent on the top 10-20 products and then gradually drops off until 80% of budget is spent on roughly 5% of the catalogue. It definitely depends on catalogue size and total spend, but this is a good rule of thumb. This behaviour is inherent, and there's no option to override this through settings.
Now that you know how the spend is distributed inside of a dynamic ad, consider helping the algorithm perform better by removing the products where you can anticipate bad results: dead and fragmented stock. If you are not doing that, you risk wasting a lot of money by letting the algorithm invest in products which have no chance of success. Sometimes the most outrageously unprofitable products end up getting thousands in spend.
By removing these types of products from product sets, we at ROI Hunter have managed to turn dynamic campaign results around countless times. Many advertisers who claimed that "dynamic ads don't work for them" are now investing 80% of the budget in DPAs, thanks to this little detail.
3. People are what they buy
The biggest topic in digital marketing today is the changes in tracking. iOS 14 and user privacy focused initiatives make user tracking difficult, presenting a big challenge for dynamic campaigns. With lower quality signals, the targeting is less precise, and the results suffer. Many advertisers have reached a plateau in their scaling attempts, because their campaigns have stopped being profitable.
The consensus is that there needs to be a greater involvement of 1st party data to mitigate this trend. I would argue that the data doesn't even have to be audience data about users. We're seeing great results by using aggregated product analytics data, which is not based on user tracking at all!
We have started using sales data as a proxy for understanding who the customers are. People are what they buy and so your sales record is a great description of your customer base. You can use this completely anonymous data to fuel the search for new prospects.
In the previous two points, we've advocated for pre-selecting great products. One of the best strategies for scaling prospecting campaigns is to use a list of your best-selling products. The reason why this works well is because there is a positive feedback loop:
Existing customers like certain products
The bestsellers come out at the top
By promoting these products, you attract people with similar tastes and needs
Repeat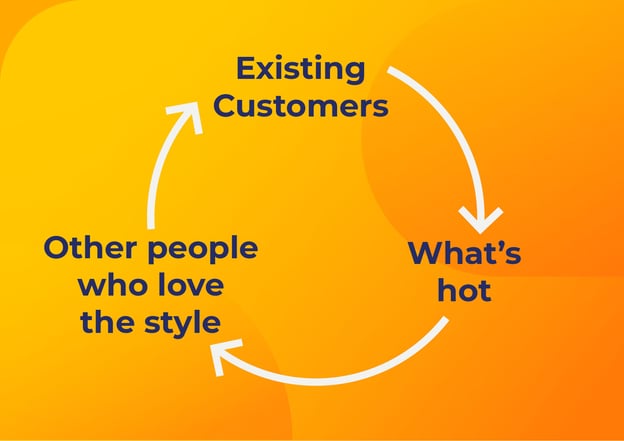 Under normal circumstances, when a user makes a purchase, it sends a signal to Facebook to search for more people like them. When users opt-out of sharing their data, Facebook misses out on this information and cannot tweak the targeting. ROI Hunter can partially make up for this lost feedback loop by making sure that your successful products are being shown, which will help us direct the budgets towards people with similar taste.
These additional signals help you run more efficient campaigns by cutting waste and focusing the spends towards relevant items. The increased efficiency will help you grow your ROAS and will give you more room for successful scaling.
Final Takeaway
By spending $1 Billion on Facebook ads over the years, we've learnt a lot and built upon our findings.

Importantly, we've found that:
- Product is the creative
- The algorithm only promotes a small fraction of your catalogue
- People are what they buy

We've used this knowledge to create the foundation for ROI Hunter's Product Performance Management (PPM) platform, which enables you to gain better insights into how your products perform on the individual level across all of your channels, so you're equipped to influence Meta (and Google's) algorithms and make more informed, data-backed business decisions.

With product performance data, you can promote bestsellers, remove low-performing products from promotion, and give a push to other untapped segments with high performance potential.

ROI Hunter creates data-driven product sets updated in real-time based on the latest performance data. That not only gives your dynamic ads a performance boost, but also makes them more resilient and low maintenance. The result is steady scaling potential for your business!

P.S. Meta has recently shaken up their automated ad campaigns (e.g. replacing DABA with Advantage+ Shopping Campaigns). Learn how ROI Hunter can enhance Meta's Advantage+ Shopping Campaigns here.