If you ever transitioned from using Google Analytics to Facebook analysis or vice versa, you might have noticed that there are discrepancies in reporting between the two. There are over 13 million hits on Google related to the topic. However, most of this is based on why the discrepancies are there and not so much on how to make sense of the trove of data from these two tools. Most of the information we can find is that there are differences and this can range from between 10 to 15%. The reasons for the discrepancies are also widely documented:
Cross-device issues. Users often use multiple devices and Google does not track across the different devices.

Different attribution models used by both make it difficult to match conversion values.

Facebook counts various conversions while Google counts unique clicks.
This is why we wanted to dig a little deeper to find not only why there are discrepancies but to also gain a clearer picture of how this could affect the way advertisers view campaigns.
How did we analyze whole conversion paths?
Our team sent unique conversion IDs to both Google Analytics and Facebook whenever a conversion happened. Then we grabbed data from Facebook to see which Facebook ads influenced specific conversions. This was done in order to build the whole conversion path for every ID. As a result, we were able to see exact cross devices user interaction as shown in the picture below. Then we took the conversion path from Google Analytics associated with the same ID and compared them to find the difference between cross device conversion path. This is something that we were able to build based on Facebook data versus Google Analytics non-cross device conversion path.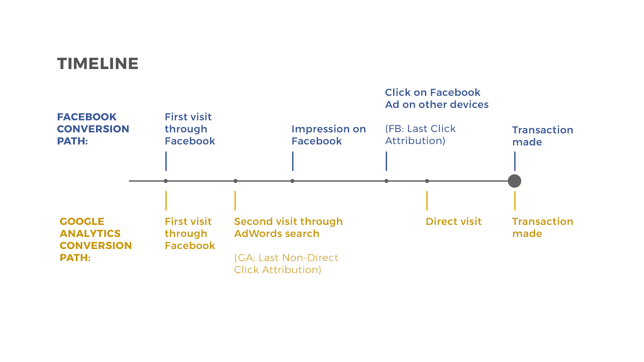 First Discrepancy – Direct Traffic in Google Analytics:
A big portion of conversions in Google Analytics fall under "Direct Traffic". This means that Google Analytics will not capture previous referrers for that particular cookie. It will instead only attribute the instance when the user types directly into the web browser. In the example below, a user is targeted by a Facebook ad on a smartphone. They visit the website and discover the offer. Later on, they are re-targeted with let's say a dynamic ad. However, in this scenario, the user is now sitting at their computer. This is where they open a new tab and go directly to the website and finish the purchase. Google Analytics attributes this purchase as "Direct Traffic". However, as we can see there were actually several Facebook ads involved in this purchase.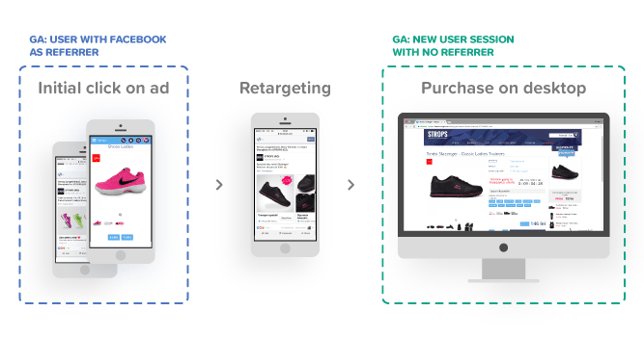 We took all the transactions that GA attributed as direct sales and checked, whether there were not in any Facebook ad interactions for those conversions. We found out that a whopping 34% of these "direct visit" buyers had clicked on a Facebook ad in the last 28 days. If Google Analytics were able to pick up cross-device visitors, these conversions would have been attributed as a Facebook traffic source.
Second Discrepancy – Last Non-Direct Click:
This happens when there is a trace of your conversion device cookie and the conversion is attributed to a search, display or email campaign instead. We took a look at the time differences of the last detected referral in the Google Analytics, the time of the last click on a Facebook ad and the time of the actual conversion.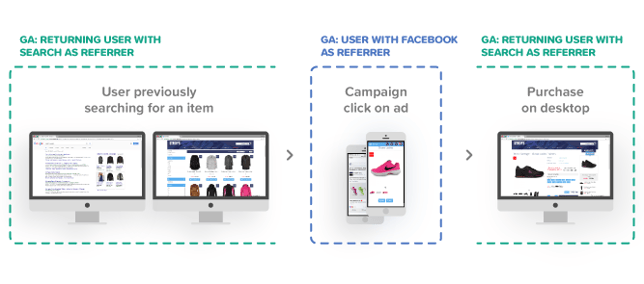 We found out that 5-7% of conversions attributed to various different channels actually had a Facebook click between those last detected interactions and the conversions. All in all, 17% of the conversions were mis-attributed as a "last non-direct click" which is Google Analytic's default attribution model. Instead of 6864 conversions, 8045 conversions were supposed to be attributed to paid Facebook advertising, but they weren't.
Overall Results:
When we tested for each of these different attribution periods, we found that:

Are your campaigns affected as well?
The website in our case-study had 52% of their conversions come via a smartphone. This number is even higher among those who interacted with Facebook at 62%. However, it turns out that only 9% of the buyers had clicked on ads both on mobile and desktop device. This website sells affordable clothes. Those are pretty spontaneous purchases, which are easy to make on a mobile.
With this in mind, we believe that the measurement differences in this particular case are quite conservative. If you sell big-ticket items, need to raise awareness or explain a complicated product, then the issues with cross device measurement might be an even bigger challenge for you.
Next Steps for Marketers using GA
Thanks to the experimental Facebook cross-device measurements and ROI Hunter we have been able to quantify the issues with attribution in at least on one example. However, we don't want you to ditch Google Analytics as it has many great features which are hard to come by in other solutions.
In order to get a closer picture of attributions from Google Analytics, you should multiply performance of FB in Google Analytics measurement by at least 1.2X or other coefficients. This will depend on how much people use mobile for discovery and desktop for purchase in each case.
We understand how important it is for you to base your decisions on solid data. That is why wanted you to see Facebook metrics together with your system or all possible Google Analytics metrics (ROI, transactions, assisted conversions, time on site, etc) next to each other. This way you do not only have a clearer picture of performance but you can use this data for automation and optimization.