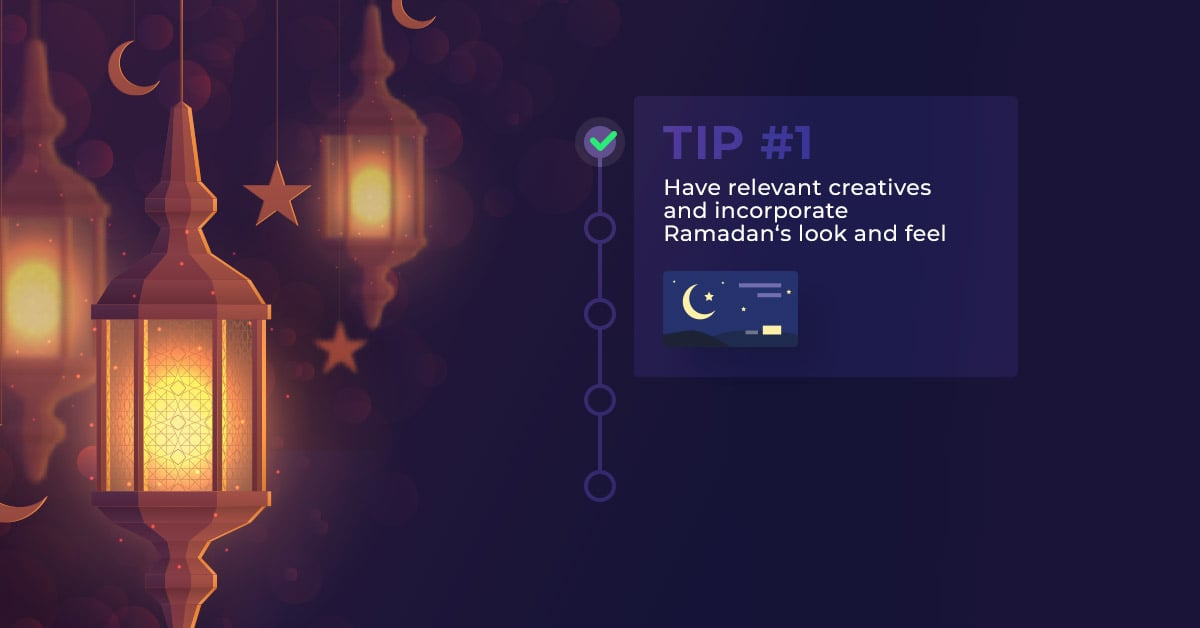 TIP #1: HAVE RELEVANT CREATIVES AND INCORPORATE RAMADAN'S LOOK AND FEEL
The holy month of Ramadan is just a few weeks away.
And, it is one of the busiest ad seasons of the year. With fierce competition, it is important to produce and communicate creatives that will capture the audiences' attention and encourage positive engagement. Because customers interact with ads more during this season, performing well during Ramadan will translate into success for the rest of the year.
A little bit about the human brain
Did you know: Given the choice between an image or video, the human brain picks video formats. Humans process 34 gigabytes of information throughout the day and it is this flooding of information that forces our brain to prioritize what is important. Check out this stat: 80% of individuals can recall a video advertisement! This is because our brain is conditioned to prioritize movement. For more information about why video formats are more successful click here for our dedicated blog post:
Ad performance during Ramadan
Video consumption dramatically increases during Ramadan. So how do you cut through the noise and make your brand heard? The answer lies in a combination of data-driven insights and creative storytelling. Because consumers actively look up ads on YouTube during Ramadan, (half of all Ramadan videos viewed organically last year were ads) it is crucial to ensure your content converts. Want to know a bit more about creating content that will turn your audience into a customer? Click here for some great tips.
Embrace the theme of Ramadan to localize your brand and connect
The holy month of Ramadan is a time of community, self-reflection, and giving. It is important that while trying to create a catchy Ramadan campaign, marketers remain respectful of what this month is about. However, embracing symbolisms in your images and ads such as the moon, stars and lanterns are highly encouraged as it helps localize a brand and connect them to its consumers. Try to incorporate themes of family and friends in your marketing campaign as they are effective in encouraging engagement with consumers over the years.
Potential challenges and how we can help
So now that we know video formats generally perform the best, why aren't all marketers using videos to market online? Some of the main reasons are that producing beautiful ads at scale is extremely time-consuming and expensive. As a result, only 16% of all ads are videos. One of the greatest things about our platform is that we continually produce innovative ways to help marketers. Introducing: Creative Factory. Dedicated to producing beautiful ads in 30 minutes, you can now create video ads at scale giving you the best chance of achieving your performance goals. Stay tuned for the release date! Creative Factory is just around the corner. If you would like to find out more, get in touch with someone from the team here.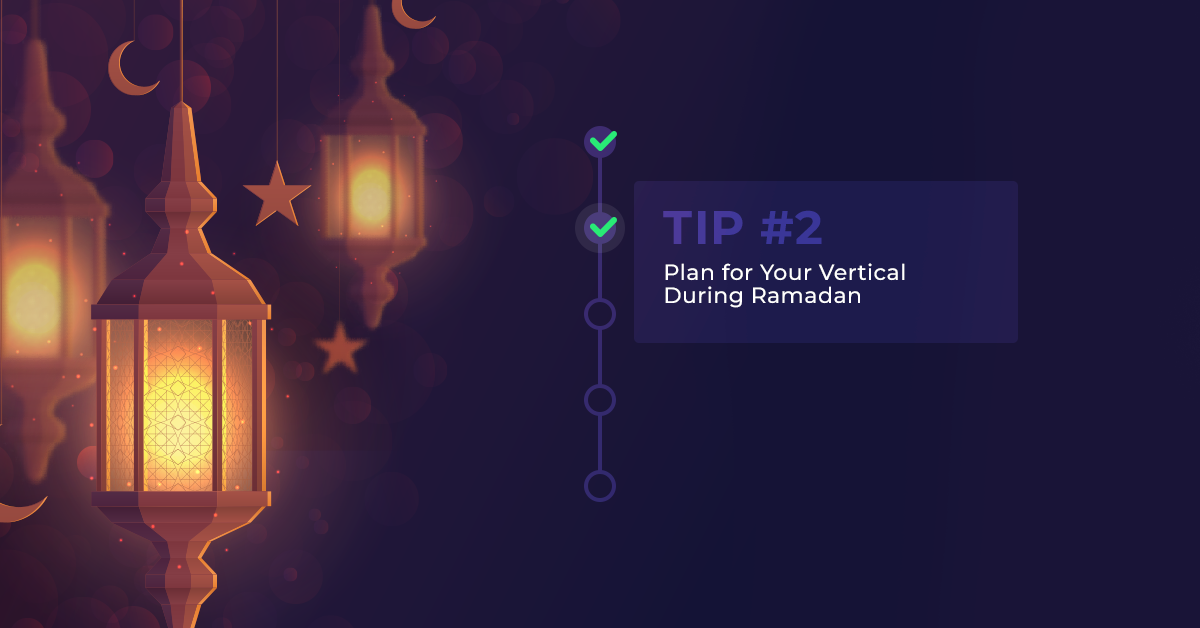 TIP #2: PLAN FOR YOUR VERTICAL DURING RAMADAN
Contrary to popular belief, some industries actually boom during Ramadan. Beauty, Automotive and Apparel experience a surge in demand for their brands, as shorter working hours and a social component encourages changes in online behaviour.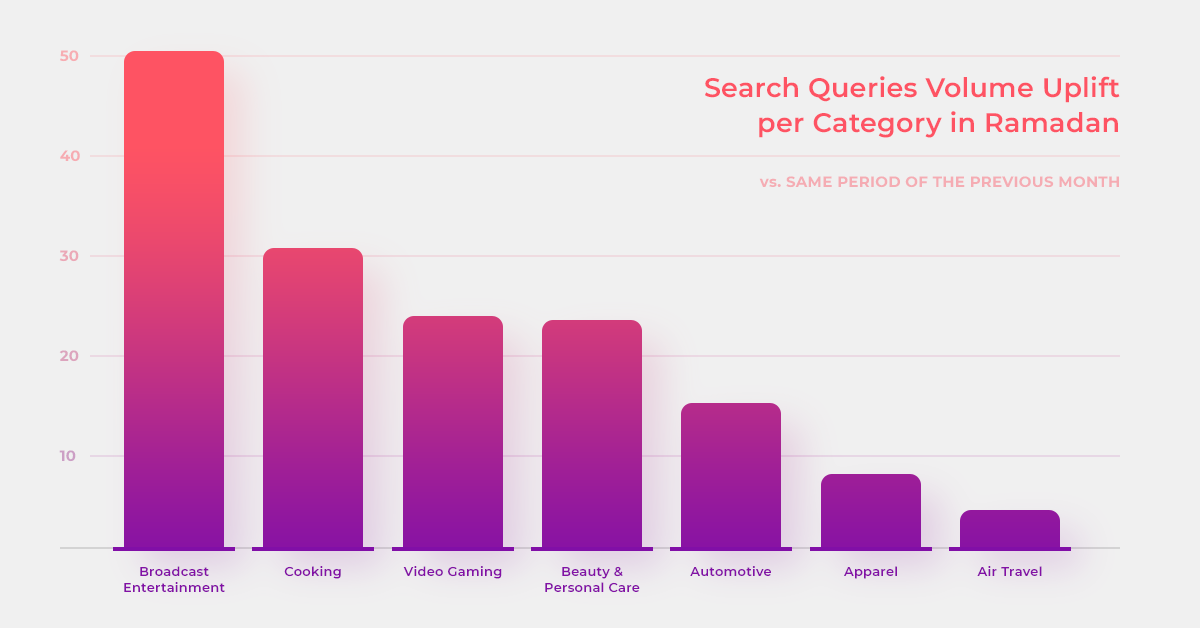 Ramadan's impact on your industry
Insights into the demand for products and services you provide will allow you to run a successful campaign full of creative and connective messaging. As Ramadan has a different effect on different types of industries, having insights into consumer behavior in response to your relevant industry, over the course of Ramadan can have a massive impact on how successful your campaign is. For example, if you are in the food industry, restaurants should be active throughout the month by inviting people for Iftar and Suhoor.
Certain industries such as airline and travel sites should plan ahead and focus their efforts on the first part of Ramadan, as people may want to travel during the Eid holidays. Clothing and beauty sectors experience a surge in purchasing during the second half of Ramadan and can accordingly run offers and discounts during the time when the competition is at its peak. Planning ahead with key data insights allows you to be aware of any opportunity to connect with existing and potential customers.
Get into the spirit of Ramadan
Now that you know 'when' to focus your campaign efforts, the next step is 'what' to focus on. Search interest in topics related to Ramadan inspired make-up, clothes and recipes surges during the holy month, and creating Ramadan themed content still relatable to your vertical will help organic searches and interest in your brand and products. This helps the marketing and re-marketing aspect of your campaign. You can also collaborate with relevant influencers (ensure the person you reach out to compliments and aligns with your brand) to further your reach and create content that is authentic and memorable.
Additional Tips:
Schedule your campaigns

accordingly to make sure you reach the audience

at the right time
Be ready for the

price increase

- observe if your budgets do not

limit the delivery
Start

advertising in advance

to collect audience and utilize it in a later stage - trying to get attention for your Eid sale campaign during Eid itself will be

too late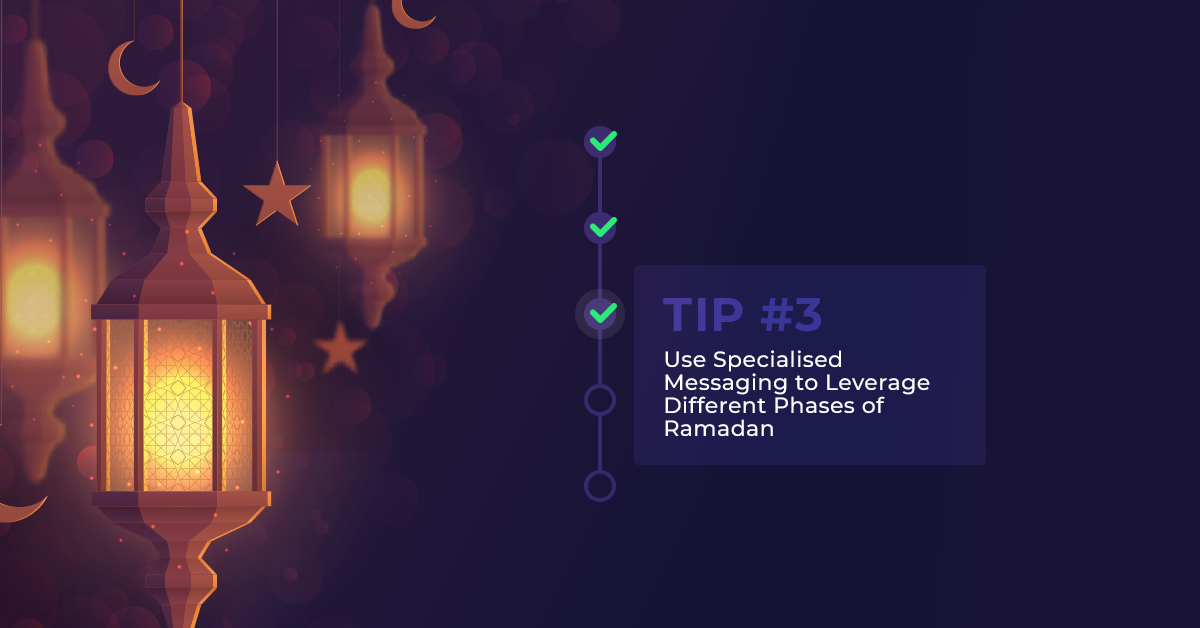 TIP #3: USE SPECIALISED MESSAGING TO LEVERAGE DIFFERENT PHASES OF RAMADAN
Ramadan can be broken down into 'pre-Iftar', 'post-Iftar, 'pre-Suhoor' and 'post-Suhoor'. Using custom messaging, you can connect to your audience on a deeper level, and by communicating particular messages such as 'Iftar offers' for restaurants, you can leverage an opportunity to attract customers for Iftar by knowing when to promote your business.
As the consumption of content increases between 2 am and 5 am, it is essential to make content that is easy to digest and the call-to-actions are easy to use.
Different phases of Ramadan during the holy month
Businesses should also acknowledge that Ramadan not only has different phases over the course of the day but has distinct phases over the course of the holy month. Different types of customers need to be paid attention over different weeks. Have a look at the timeline below to see what fits your business:

Some important metrics to keep in mind are, there is a 22% increase in the search for gifts in the last two weeks of Ramadan. So businesses looking to make the most of their budget should ensure that their communication takes place around that time to make the most out of their campaign.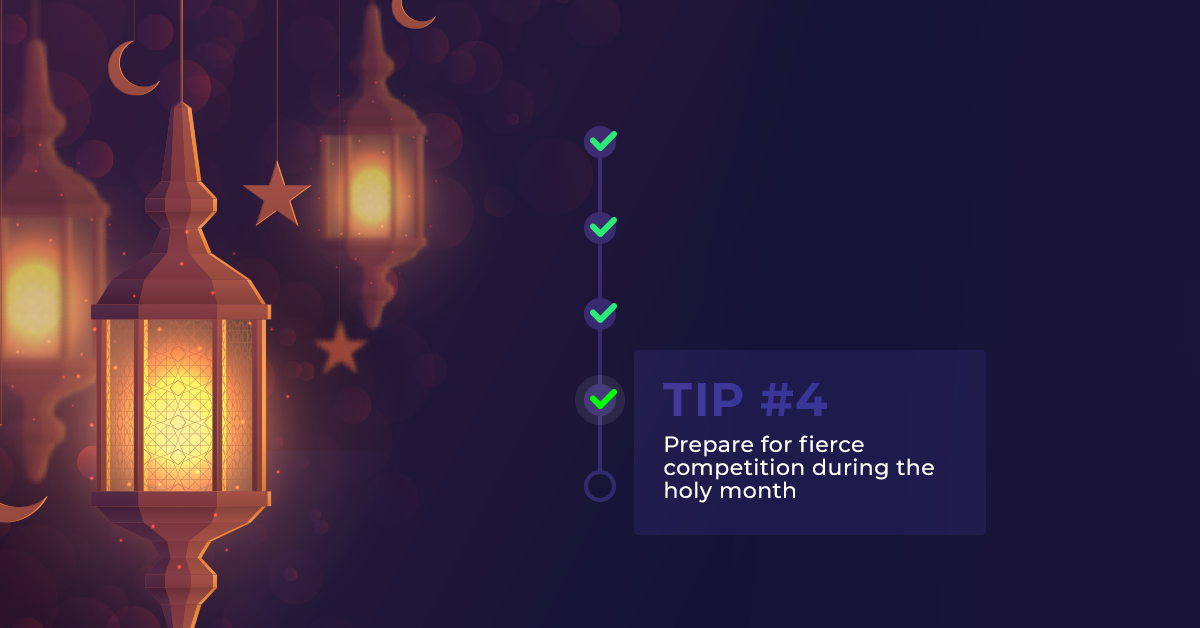 TIP #4: PREPARE FOR FIERCE COMPETITION DURING THE HOLY MONTH
With many companies allocating a budget to campaign during the holy month of Ramadan, one must remember to anticipate large amounts of competition. With changes in buying behavior and the way people consume content, the best way to combat the competition is by making decisions based on data surrounding the best time to campaign and the type of content required to stand out.
Here is an example of a successful data-driven campaign:

During Ramadan, the use of Miswak increases. Listerine used this information combined with the knowledge that cooking and food recipe content increases by 25% to run a very successful campaign. This is a good example of correct timing and well thought out channels.
Award winning campaign:
A past winner of the prestigious Lantern Award which is presented to the best YouTube campaign in terms of relativity, reach and engagement was Orange Egypt. Through the use of humor, tradition, and relating themes of Ramadan such as scarcity of time, they were able to engage with their audience actively and boost the popularity of the ad.

For more inspiration here is a list of other finalists for the coveted Lantern Award.
Final Thoughts
To cut through the noise it is important to connect to your audience. Use humor and incorporate different themes of Ramadan to help you build your relationship with your customers, and always be strategic with data-driven campaigns to ensure you know when and how to make the most impact with your campaigns. A combination of this will help you edge out your competition.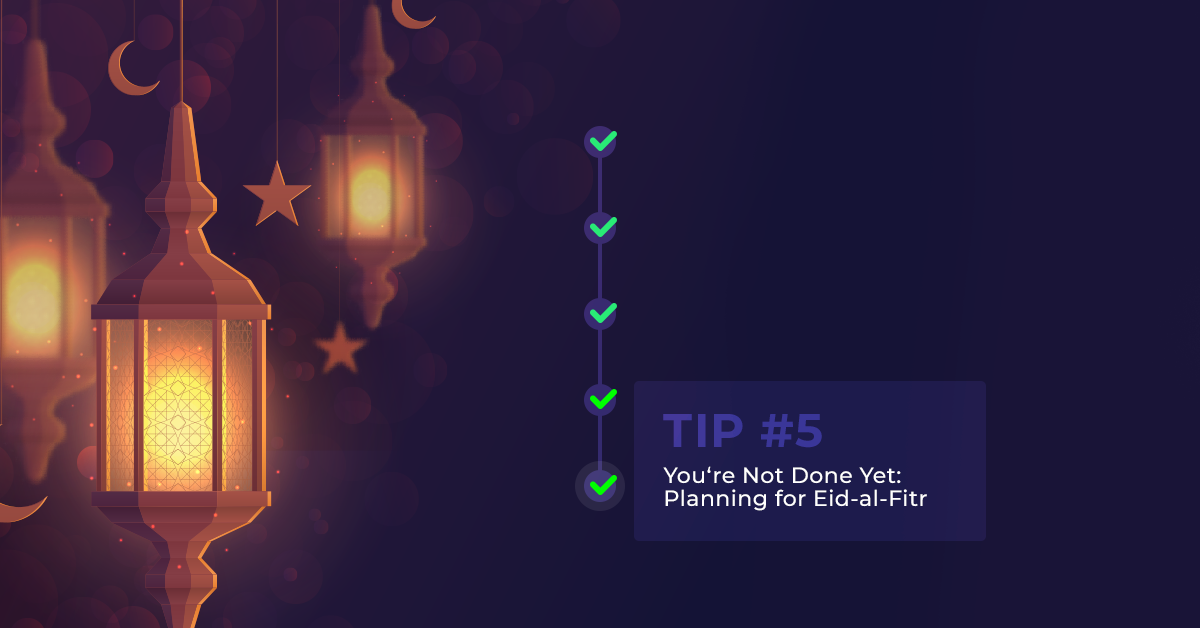 TIP #5: YOU'RE NOT DONE YET: PLANNING FOR EID-AL-FITR
As Ramadan comes to an end, users' shopping intent will increase. This is because Eid al-Fitr is a time for celebrating and sharing with others. In order to get ready for this time, many people will prepare by buying fashion & electronics. Get ready for this surge in spending by implementing a strategy in your creatives and budget planning. Eid al-Fitr celebrations will begin on June 3rd.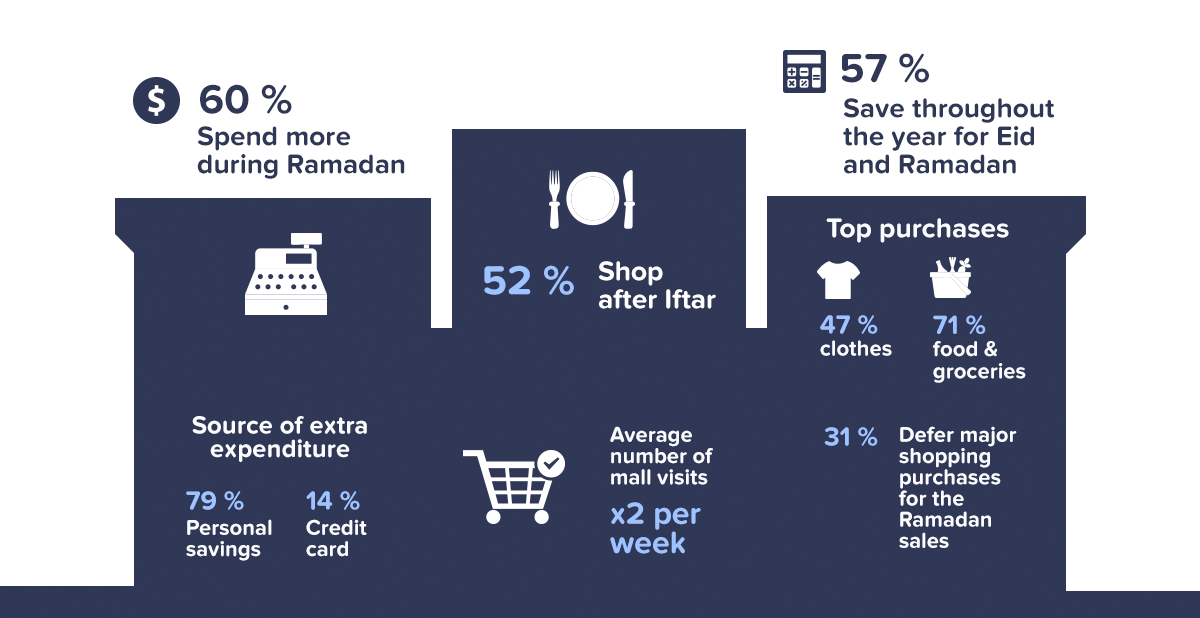 Creatives for Eid-al-Fitr
Ensure that your copy includes wishes for your customers such as 'Eid Mubarak!' and stay on theme with images such as the crescent moon, lanterns, and stars. For dynamic ads, use specific templates just for Eid.
For videos, remember to remain mindful that this is a religious occasion but don't shy away from creating fun and engaging content to relate to your audience and stand out from your competition. After Eid, don't forget to revert your creatives to your standard, generic designs.
Consumer behaviour after Ramadan and During Eid
After Ramadan, certain verticals experience increased buying behaviour. Air travel and hotel searches surge by 20% to 25%, with Eid seeing the busiest search period in the year, second only to New Years.

Make sure you're completely prepared for success
While you may have an exceptional campaign, if your content is not mobile friendly, you could suffer to your competition. In the last five years, smartphone penetration reached 60% across MENA (91% in UAE). During Ramadan, people spend more time online on their phones than any other period, with internet usage in the UAE sitting at 94%, and Saudi Arabia 98%. With this in mind, it's clear that your site needs to speedy and mobile friendly for optimal marketing results.
Utilize your Ramadan audience
Have you run campaigns during the whole Ramadan? You might have built an audience of users who visited your website or app and are familiar with your brand. Utilize this audience and retarget them with you Eid-specific message rather than competing for new users again. Use long-term remarketing audiences for Eid specific campaigns to reach users who already know you.