Digital Video Ad Spend increased 3X in 5 years in the US:
Are all Video Ad formats and placements performing the same way?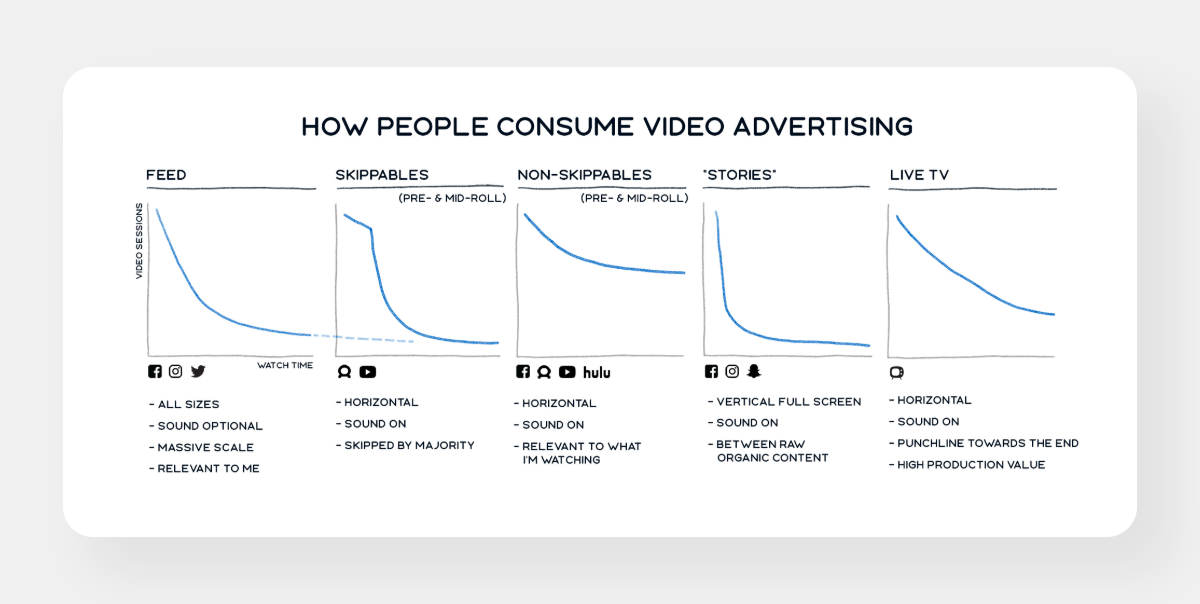 Definitely not! There is one advantage that Facebook Video Ads in News Feed specifically have over the other placements. Comparing to Non-skippable and Live TV, viewers are not forced to view the entire ad, yet the watch time drop rate is still fairly low and linear.

On the other hand, Facebook Video Ads in Stories provide you with a far more linear long-tail. So users who stick with the first 2 seconds, will most likely watch your Stories Ad until the end. If you can retarget people based on their engagement with these ads, these placements open a huge opportunity for your ad performance. We have also found out, that Stories Ads are up to 2X cheaper (CPM) compared to standard feed ads.

So what is the Facebook & Instagram Video Ads challenge for 2019?
It seems like one of the great challenges of this year will be handling all of the video formats in all of the placements across Facebook and Instagram. There are big differences between these and advertisers simply can't create a single video format, use it in all the placements and hope for the best.

In order to master the art of video ads, you'll need to learn how to create them at scale - because only a few businesses have the resources to create videos one by one without the ability to automate.
The first few seconds of video are the most important
People make first impressions in the first 3-5 seconds. Try to come up with something new that attracts the spectators' attention at first sight. It can be an interesting expression of your actor, bright colors or fast cuts. Fantasy sets no limits. But do not forget - you need to spend the most time working on the beginning of the video.


Use your logo right at the beginning
In comparison to traditional video ads, or YouTube ads, on Facebook and Instagram, you are competing for the user's attention at every second. Therefore don't hesitate to use your logo right at the beginning, to enable your customers to quickly identify with the brand.


Count with the absence of sound in your videos
Up to 85% of users view video without the sound on. Therefore make sure that your video creatives deliver the message even with no sound. One of the options how to get around this is to add short, crisp captions that will convey the message.


Experiment with different facebook video ad formats, lengths, and placements
Find a way to create native video ads for all your placements (read more here). Not every message works with every placement or length. Go and search for the one that works for you. The biggest potential should be using Facebook video ads in news feed and stories, which should, however, be vertical, not horizontal.


Pay great attention to technical requirements
Try to use MOV or MP4 video formats, H.264 codec for Facebook video and AAC codec for the audio part of the video. Also, remember that Facebook will automatically reduce your 60fps video to at least 30fps. To gain as much control as you can, prepare your video, follow official Facebook instructions and compress the video locally on your computer. You can also find a great article how to master Facebook video on izzyvideo.com.


Remember to point out to the CTAs
Everyone knows that you can't forget to put a CTA into your texts. But how do you do it in Video Ads? The easiest way is to use captions and reveal a call to action in the middle and at the end of the video.


Use high-contrast and bright colors
Be wary of fade, boring backgrounds. Remember that the name of the game is to catch your viewer's attention. To do the "thumb-stopping" action. People will instinctively react more to contrasting colors and highlighted elements of your video, which are important.


Don't be scared to experiment
Think outside the box and use video ads in the first box of your, otherwise static, carousel. For example show of your product on promotion using a video ad in the first video, then use remaining boxes to explain the individual USPs of it.


Use images for video previews
Don't be fooled by the automatic preview generation. Create customized video preview images, which will grab the viewers attention and will make him play the video, if the automatic play is switched off on his device.


Prioritize video ads over static images where possible
Video advertisements are very production-demanding. Therefore, until you automate the process, dedicate your time to the most important products/services you offer.
At ROI Hunter we are constantly working on Creative Factory, a suite of features and services directly connected to Video Advertising on Facebook and Instagram for e-commerce companies. If you are interested in getting the best results from Facebook and Instagram video ads, sign up for our newsletter. In March 2019 we will have some new exciting features for e-commerce advertisers and you can be the first to leverage from them!
In the meantime, you can also read these articles, that can further inspire you:

Why the human brain prioritises videos and how you can use it for advertising

4 Scalable Video Advertising Tools You Need In E-commerce

IGTV - What Does This Mean for Performance Marketers?