TL:DR
With just over a third of the world's total population having an account with Mark Zuckerberg's social media Goliath, it makes sense that you optimize the platform for your online business.
Optimizing your product feed for Facebook is just one of the things you can do to get the most out of the platform. Below I've run through exactly how you can do this.
What's my product feed?
Your product feed is a file (.xml, .txt, or excel) which contains information on the products which are sold by your business – it's the way that your business communicates with Comparison Shopping Engines (CSE) in order to let them know what searches your products should come up in.
Why is this important?
Because your customers are checking any number of CSEs at all times of the day, in order to find the products they want at the most competitive price possible. Having your product feed on a CSE gives you the chance to show that your business offers the best value products.
Facebook business manager
Whether it's through a social media platform, video sharing network, or a pure internet search engine, each CSE have their own quirks and nuances. Facebook is no exception.
You upload your products to Facebook by using business manager. This allows you to keep track of all of the materials your business is using on your Facebook page, including:
Your pages
Your ad accounts
Who in your business have assigned roles and access
For more details on how you can setup and manage your Facebook business manager, spend just a few minutes watching the excellent video below…
Creating a catalog on Facebook business manager
Your catalog is place that houses the data relating to the products that your business wants to advertise on their CSE.
Facebook have a lot of literature on how you can set up your catalogs on their platform and have published an 8 step guide on how you can do it: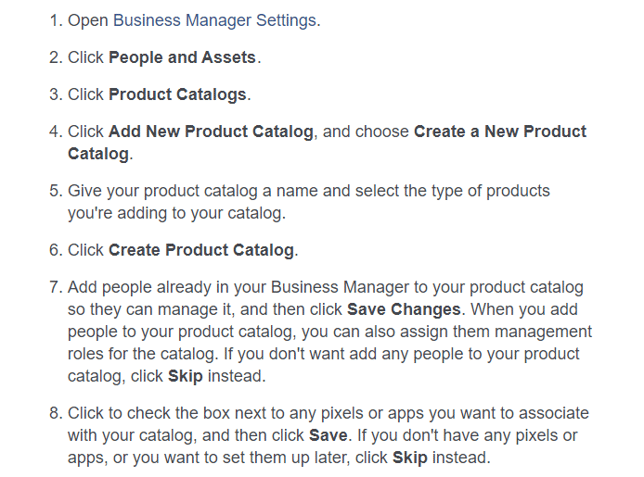 Credit: Facebook Business
Once you have your product catalog in place, you can then add your product feed to it and list your products on Facebook.
Setting up and optimizing your product feed for Facebook
There is specific information and particular fields of data that Facebook requires for your product feed. Some of which have narrow options and offer less scope for optimization:
ID: You need to add a unique ID for each product you upload
Availability: You have a maximum of 100 characters in which to let your customers know if the products they are seeing are available to buy
Condition: Your options are: "new", "refurbished", or "used"
Price: Mark how much your items cost and the relevant currency (i.e. USD)
GTIN, MPN, or brand: This is all about helping to identify your products:

GTIN: Global Trade Item Number
MPN: Manufacturer's Part Number
Brand: The brand name for the item

Link: This is the link that directs your users to where on your online store they can buy the product(s) listed on your product feed
However, there are a number of fields of data that you can optimize, in order to ensure you are making the most of your product feed for Facebook:
Description
The 5000 characters which make up your product descriptions are your opportunity to write well-optimized content. You want your descriptions to sell the items listed on your product feed and there are several steps you can take in order to help you do this:
Highlight your products key features
Explain how your product works
Know your target audience and write for them
Make your language clear, crisp, precise, and uncluttered
Incorporate keywords in a way that's natural
Write content which is unique
Title
Some of the above principles will be also true of your product title, specifically, the need to incorporate keywords in a way that's natural, and writing concisely and directly. However, there are some additional optimization tricks you should employ:
Anticipate and answer any questions your customers could have about your products
Start with your product features
Include the brand/designer name
If applicable, include the model name
Image link
Size is relevant when optimizing the images that you include in your product feed. Facebook wants you to get two key details right:
Image ratio – 1.91:1
Image size – 1,200 x 628 pixels
Size and ratio are not the beginning and end of making sure your images are well-optimized. There are plenty of other things you can do, such as:
Using alt attributes
Choosing the correct file type
Testing your images on your customers
Once you've done all this, you can upload a well-optimized product feed to your Facebook business page, by going into your catalog, selecting Add Product Feed and then inputting the data you have gathered.
Win the optimization war
Optimizing your product feed for Facebook is just one facet of the ongoing battle of creating a web presence that's in harmony with current SEO standards. You have to play the game in order to drive consistent traffic and revenue to your business.
There are a number of tools and apps available that you can introduce to your ecommerce business to help make your site more optimized:
Plug in SEO is one such app — it identifies the SEO problems on your site that are worth fixing, before giving you instructions on how to how you can fix them. It's free to add to your website if you've built your store on Shopify
Yoast is the #1 WordPress SEO plugin. Among the many its many features is the ability for you to set canonical URLs, and the ability for you to have full control over your site's breadcrumbs
SEMrush might not be an SEO tool in the same way as Plug in SEO and Yoast, but it's no less valuable. It's an industry standard for businesses who know the value of keywords and its depth of search volume data is unrivalled
The tutorial video below is the perfect place to start. After watching it you'll have some actionable tips that you can use to help you in your ongoing battle to win the optimization war...
Getting your product feed on the largest social media platform on the planet is an absolute no-brainer. But just having it there is no good — you want people to actually find your products — and that's why optimizing your product feed for Facebook is so important.
So go away, put my tips into practice, and get your products in front of an audience of billions.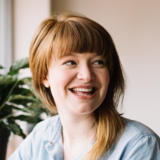 Victoria Greene is a branding consultant and freelance writer. She loves all things ecommerce, and is specialist in the areas of social media and digital marketing. Big fan of purpose-driven content.
You can read more of her work at her blog Victoria Ecommerce.