Our own Kristyna Kaucka distilled the trends for you and spotted the most popular topics of the day. Amongst others, they were: contextual commerce, the potential of mobile, AI, machine learning strategy and customer engagement in the omnichannel world.
The conference opened with a speech of Erik Meierhoff, Head of B2B Business at Idealo. Erik talked about the e-commerce trends for 2019 – the fears and desires of German online-shoppers.

He set the theme for the day which focused on the main priorities for the for online retailers:
Artificial Intelligence or Voice Commerce are getting more exciting and yet more feasible for merchants
Contextual commerce on social media
Personalization
Erik's speech also covered Black Friday, the most important day of the German e-commerce and also the kickoff for the holiday shopping season. 67% of customers are planning their purchase upfront, and the average budget spent is 300€. Electronics, gaming and especially strong brands are performing best on Black Friday.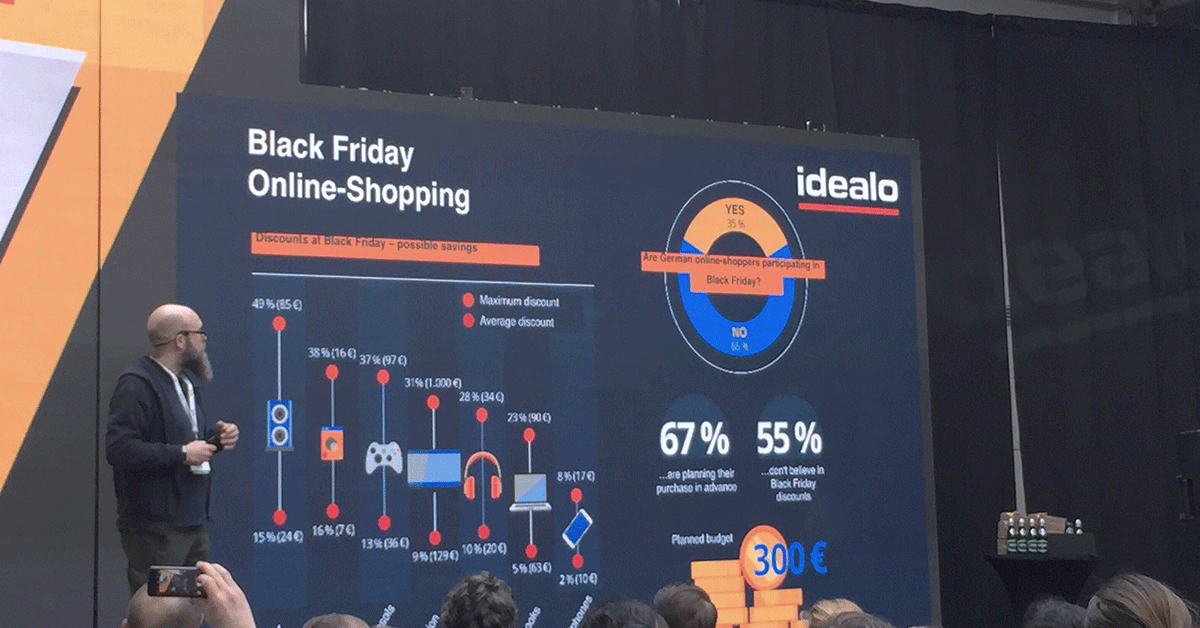 To add more on German online shopper's habits - customers are price sensitive, they like to compare prices and save money, 83 % compare prices online at least occasionally, while or after shopping at a store. At the same time, prompt delivery and a smooth return process are nowadays as important as a great price. 60% of customers are willing to reveal personal data in exchange for attractive offer benefits. According to Erik, customers need to be picked up with more transparent information about offers. They want professional and comprehensive advice about buying products online and offline. Last but not least, adopting innovations is great, but German customers need time to get ready for them.
Site search: the hidden gem of conversion optimization
According to Kylie Fletcher from Sooqr, a site search will become even more intuitive, predictive, personalized and conversational together with visual and voice search. Visual search should make easier finding searches which are not easy to describe in words.
Site search itself is still not a common practice for majority retailers. The usual mistake is that visitors can not find the search bar because it is hidden or not big enough. Changing from a default platform to specialized, optimized site search will boost revenue as customers will be able to find and buy exactly what are they searching. Site speed also becomes crucial - with every waiting second, up to 30% of visitors will leave your webshop.

As Kylie claimed: "Websites should have optimized search on any device, not just on the desktop. More searches than ever take place on mobile, while the actual purchase takes place on different devices.

Not being able to filter results, check for errors or keep track of customer queries is also a significant missed opportunity, because companies can learn a lot from no-result questions.

It is a great way to find out what customers are searching for and if the retailer should add new products.
The potential of re-commerce
Shimon Koifman, Head of Product at reBuy, presented his view about the idea of re-commerce but also about a special customer journey, that should be as smooth as possible. According to Shimon the main principles of excellent user experience apply to both eCommerce as well as re-commerce platforms. Things like: first impression counts, useful product discovery, collection management, clarity, credibility, and trust are vital for reBuy's customers.

In addition to that, everything post-purchase is also something reBuy focuses on to provide even better support for the complete user experience, and on that, the re-commerce dimension of customer payout is something that we continuously nurture and evolve.

reBuy is continuously asking for customer feedback in the form of various surveys at different stages of the customer journey to gain pre-purchase experience as well as input after the products delivery the customers.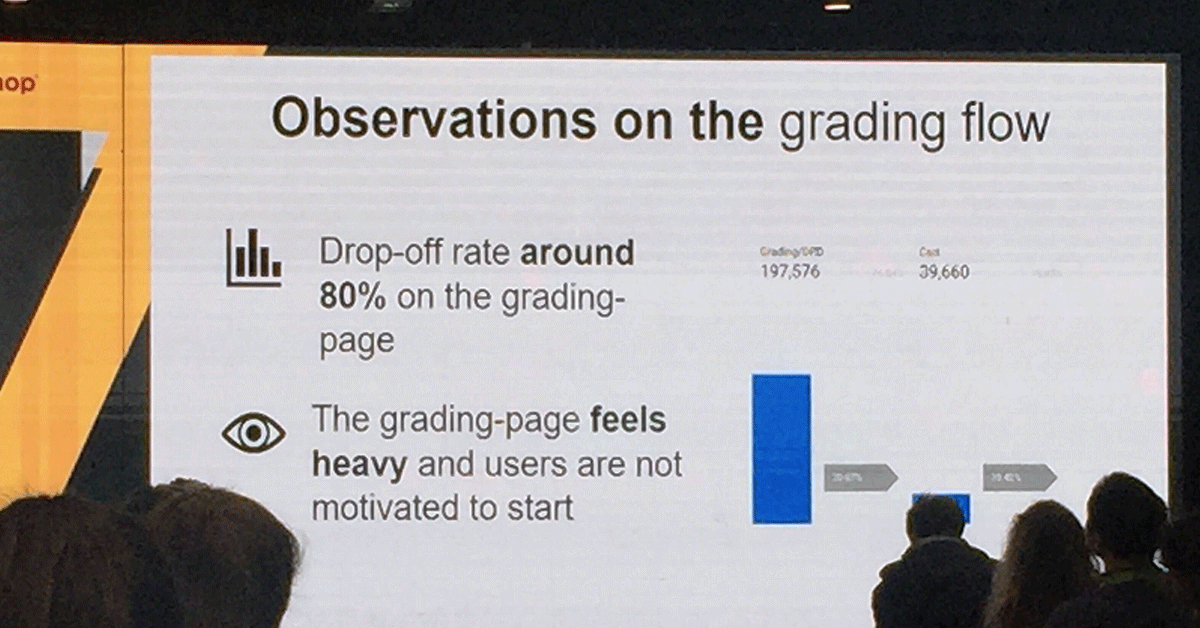 Based on Shimon's assumptions, the re-commerce market nowadays has no longer the garage sale image of the past. Second hand is not only a good price alternative but has also become an ecologically sustainable way of life. The potential of reCommerce and trade with used products is enormous, especially in the customer electronics sector.

As Shimon highlighted: "Every company in the world will tell you they are customer driven. They believe in that principle, but none of that means anything unless you make the fundamental decisions to ensure it — that's why our teams are structured to take care of complete user journeys, in each group we have a product manager, designer, and 4-5 engineers. Now, we are on the transition to becoming an even more customer-centric organization".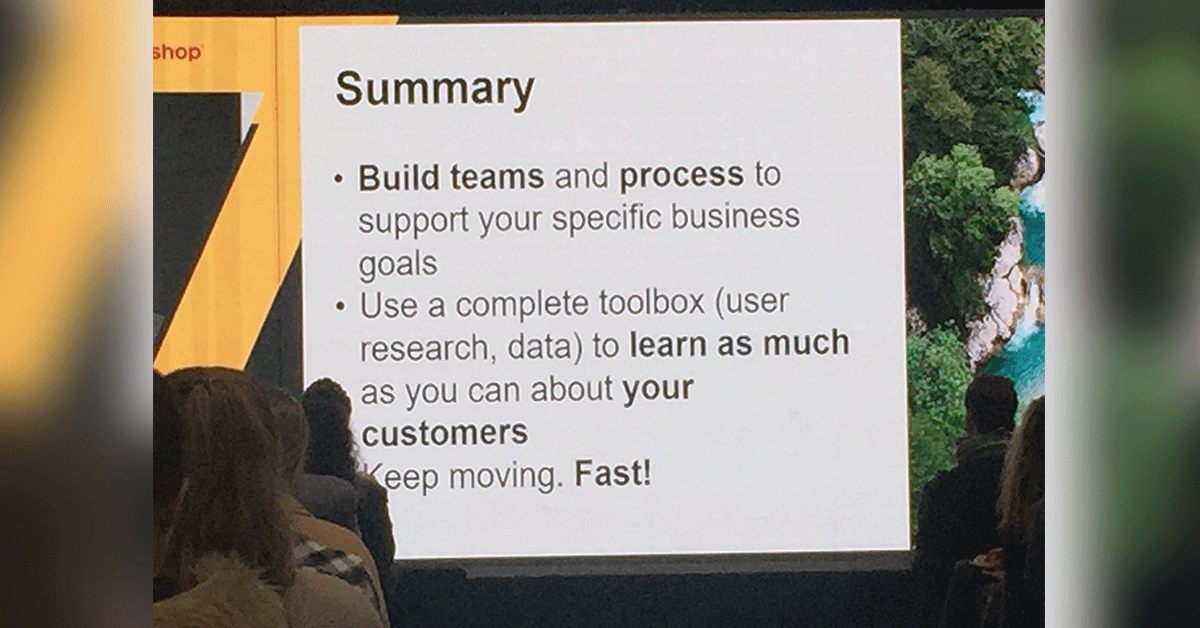 Great shopping experience FTW
A customer-centric approach was also a topic for another keynote. Based on the speech of Albert Velve and Amr El-Shimi, both from Zalando, being mobile first is not enough; you have to be social first in the first place. Since consumers are not downloading the apps frequently (49% of people download one app per month) and Google and Facebook dominate 15 top mobile apps, Zalando is striving to become a website where people come for shopping and stay for leisure.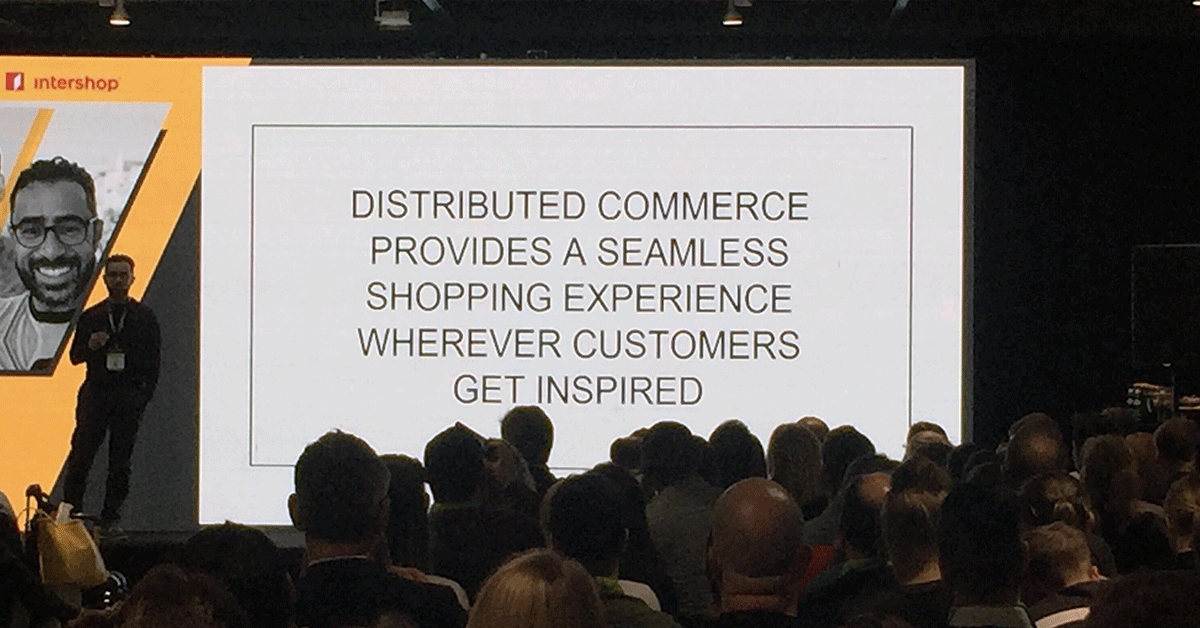 Two more areas of work have become dominant for Zalando lately - seamless shopping on distributed platforms (social media) and virtual digital assistants. The aim is to provide a seamless shopping experience wherever customers get inspired. Zalando removed the potential conversion blockers and focused more on an intuitive purchase where navigation and cart have been swapped for instant check out.


The key takeaways from Zalando's presentation:
Build a cross-functional team that embraces failure as a part of the learning process.
Be obsessed with generating data, think of it as a product
Think big, start small, scale fast: find the best use case, always having a lean mentality
Be patient - platform changes faster than customer behavior
Personalization is core to a tremendous conversational experience
Focus on a specific customer problem
Think of unique value you can deliver over a conversation
Optimize for engagement and retention, the commercial impact will follow


Closing remarks
E-Commerce Berlin Expo 2019 was an excellent conference with a wide variety of content from different companies. Overall though, it was about getting the most out of your resources to deliver the best results possible.
Find out how the unique technology of ROI Hunter saves time, transforms creatives, boosts performance and makes e-commerce marketing easier and more personal.