TL;DR From now on, you don't need a Photoshop license or a designer to create
the most eye-catching images for dynamic ads.
The days when you were nagging a graphic designer to sketch product banners with the right branding and the required sizes for different feeds are over.
ROI Hunter is presenting a tool we are truly proud of –Dynamic Template Editor with conditional rules for applied layers based on feed tags. Templates will help you save time and boost CTR in the most appealing way for customers. The results speak for themselves: 2x better ROI, 44% more transactions and 31% conversion boost were achieved when STROPS used dynamic templates. Read on to learn our best kept secret…
What was the challenge?
We have all been there – Facebook is cropping images to fit the required image size ratio for single image ads (rectangle) and carousel ads (square). To get around this, you had to create two feeds for dynamic ads with two different image dimensions for each type. This was the first step we wanted to improve when we launched Template Editor. It is very easy – upload your feed and once you open a Template Editor, images will be fitted immediately into selected ad proportions. But we are not finished yet…
"Dynamic" is a keyword of marketing future
One of many marketers' challenges of these fast-paced days is to be able to advertise products with up-to-date prices and availability in the shortest time possible. We designed a solution that covers both. Regardless of the number of products in your feed, now you can create amazing ad banners in a minute for all of them – you will work with layers similar to Photoshop and can include tags from the feed directly into the image. So whatever changes in the feed including price, tags for the picture occur correctly – the image will be transformed automatically in less than an hour – that's why these templates are called dynamic. These templates work for standard dynamic ads, cross and up sell and also for prospecting ads using Google spreadsheets.
Super cool hack is to use up to 5 custom label tags, putting any info you like – percentage of discount, product rating in a form of full and half stars★★✫, gender or special keywords, making it very easy to sort through different items.
Things you could include in the template:
Images: from a folder, a URL address or a feed
Copy: use feed tags (price, title, brand, custom_label etc.) or type your own text, a huge font library is included for free!
Shapes: start with adding basic shapes, proceed with more fun icons, arrows, frames or lines and change their colors for a perfect fit
Templates: paste and edit exiting template to re-create your ads in a second!
On the left side of canvas, drag and drop layers to move them back or forward, choose the level of opacity to make them more transparent or duplicate the layers you like.
The most recent feature enables you to set up conditions based on feed tags under which the selected layer will appear. E.g. if BRAND is Nike and PRICE is greater than 20 EUR, show layer with "SALE" image (see below)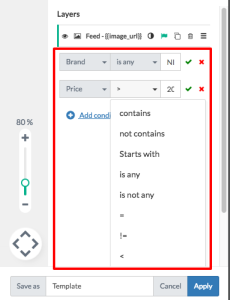 If you still prefer your graphic designer, ask him to create layers with design corresponding to your company brand and combine them in Template Editor with product images from the feed.

Here is a gallery with templates created by our clients – you can take our creation and make it your own. Seeing the results of our work in your campaigns is one of the many reasons why we love working at ROI Hunter!
| | |
| --- | --- |
| | |
| Without Template | With Dynamic Template Editor |
Examples of Template Editor Creatives
Offer even more – add additional images (in testing)
How about you can add more pictures from the feed into your dynamic ads? We are testing it! If you can add more additional images into your feed and let template editor to pull it into dynamic template, you can show similar products and cross-sell, up-sell while you're still re-marketing visitors. Link will still lead to that particular product (or category) but you have a chance to inspire your audience even more. This would push buyers experience far beyond their expectations.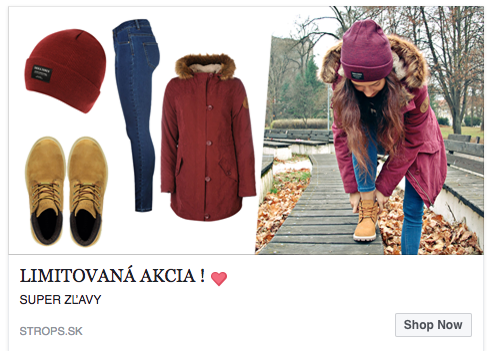 A "little" brother called Image Editor
This editor will help you improve images for non-feed based ads. Functionality is almost the same plus you can create slideshows, continuous carousel ads, remove background of uploaded images and much more. Read more in this article with videos.
It's really THAT easy. So take a chance to start a 14-days FREE TRIAL below and get access to the platform and all our features straight away. Good luck with the designs! We are looking forward to seeing what you come up with.