Interview Q & As
Do you participate in Black Friday?
While all the other participants we surveyed say they do participate in Black Friday, we had an interesting response from Performance Marketing and E-commerce Expert, Tim Hölscher:
"Black Friday is one of the most overrated topics in this industry, I believe. I would rather not participate as my point of view is one needs to focus on getting the average boring day throughout the year right instead of focusing too much on Black Friday/November/Q4."
When do you start planning your Black Friday strategy?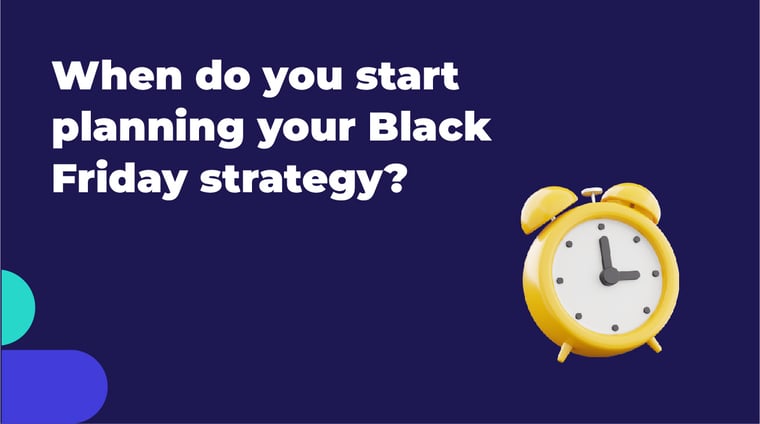 The majority of decision makers answered that they don't begin their holiday planning until August or September of that year.
However, some retail marketers start much further in advance, such as Mattia Giorgi, Head of Marketing at Teddy Retail Group, who said he begins strategising an entire year before and then reviews the plan a month before Black Friday begins.
Hannah Tyrrell, Head of Digital Marketing, also doesn't waste a moment. She said,
"Almost as soon as it's over we're running reflection sessions and strategising how to make improvements YoY, with what went well and proposals for the following year. We work from 12 month forecasts so we like to lock in the offer at a minimum for our clients as soon as we begin that process. Specific campaign and channel delivery probably comes into the play with detailed H2 and quarterly planning."
How do you determine which products or categories to feature most prominently in your Black Friday promotions?
Gianni Casagrande, Managing Director for e-commerce marketing agency, FUTCOM, said in his experience, this is usually directed by the client:
"Most retailers buy specifically for the event, so product packages are usually dictated by buying/merch departments."
Hannah Tyrell also said this depends on the client:
"We would look to maximise the opportunity as much as possible for all clients, and generally encourage them to see the opportunity to acquire customers at-scale, but some would prefer a value-add approach to give the customer a more premium experience while protecting brand image and margins.
Some on the other hand are more driven by competition and keen to ensure they stay dominant in terms of price-point on key SKUs versus competitors if they have a wider retailer network. If beauty clients have advent calendar stock, Black Friday is a great opportunity to sell through before the start of December and offers both a great introduction to a brand for a new customer or a great brand experience for engagement and loyalty for existing customers too."
In Mattia Giorgi's case, he said,
"The overall strategy depends on the overall yearly sales, but in general we try to offer a mix of best selling products (good for end users) and products/categories users usually don't associate with our brands."
How do you plan to measure the success of your Black Friday sales (e.g. revenue/ROAS, profit/POAS, sales, customer engagement, etc.)?
Performance Marketing Specialist for Adidas, Lerato Masenya, looks toward Revenue / ROAS to measure Black Friday success. Gianni Casagrande also agreed.
Bruno C. Santos, Marketing Manager for MadeiraMadeira, said their Black Friday focus is on Ad Cost and Revenue, while Hannah Tyrell said she analyses, "CAC (customer acquisition cost) or cost-of-sale / ROAS - depending on strategy and client DTC (direct to consumer) maturity."
Mattia Giorgi's metric for success is also, "New CAC. It's an opportunity to acquire new customers, and then we will analyse in the long term how they behave (CLV (customer lifetime value) and so on)."
Senior Marketing Performance Analyst, Marcos Maierhofer, said, "We use a range of metrics, from ROAS, to margin on products sold."
When asked about how he measures the success of Black Friday campaigns, Jon Quinton, Founder of Overdrive Digital, said,
"This depends on the client and their objectives. In some cases, the client is looking to shift stock - for this we look at CPA (cost per acquisition).
Many of our clients will look at ROAS throughout the year (with their margins calculated in / considered as part of the targets), so in those cases we stick to ROAS to get a consistent view on performance compared to other parts of the year.
We also need to ensure consistency with the data we are feeding back into Google Ads / Meta Ads, so it would be unlikely to have a big shift in the KPIs we are using for the period."
What is your main business focus during Black Friday (e.g. get rid of dead/fragmented stock, show new items, etc.)?
Hannah Tyrell answered,
"Client dependent, we would tailor offers and strategies to overall client goals. We definitely encourage clients to think customer-first rather than focus on clearing unpopular items, which may not be as appealing and reduce the potential from a prime sales / acquisition opportunity. Best foot forward for a great customer experience is key to balancing long term value - dead or fragmented stock could be a great GWP (gift with purchase) opportunity to deliver a better customer experience overall."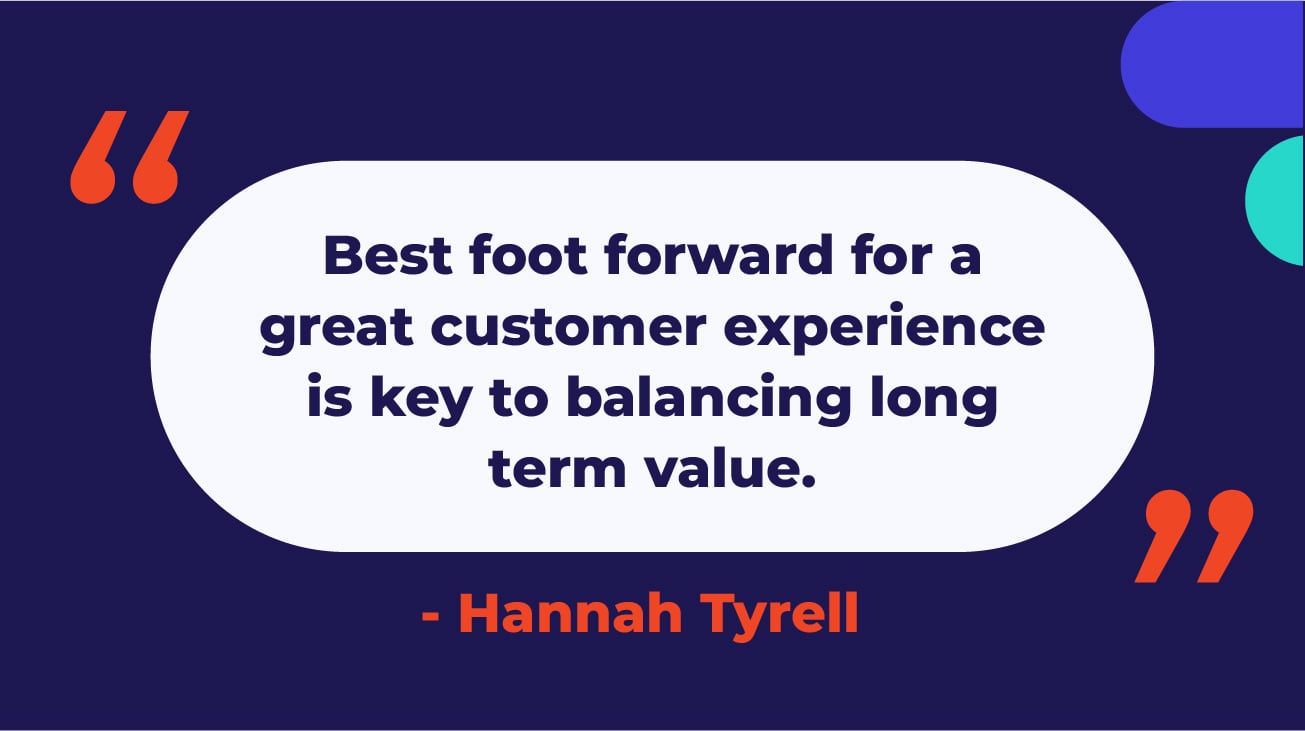 Mattia Giorgi said,
"It depends on the sales results during the year. There is no predefined strategy. Getting rid of dead / fragmented stock is always a good option."
Lerato Masenya wrote that at Adidas, their goals are to leverage the commercial period and push out old stock ahead of the festive shopping season.
How do you ensure that the products you promote during Black Friday are the right / best ones?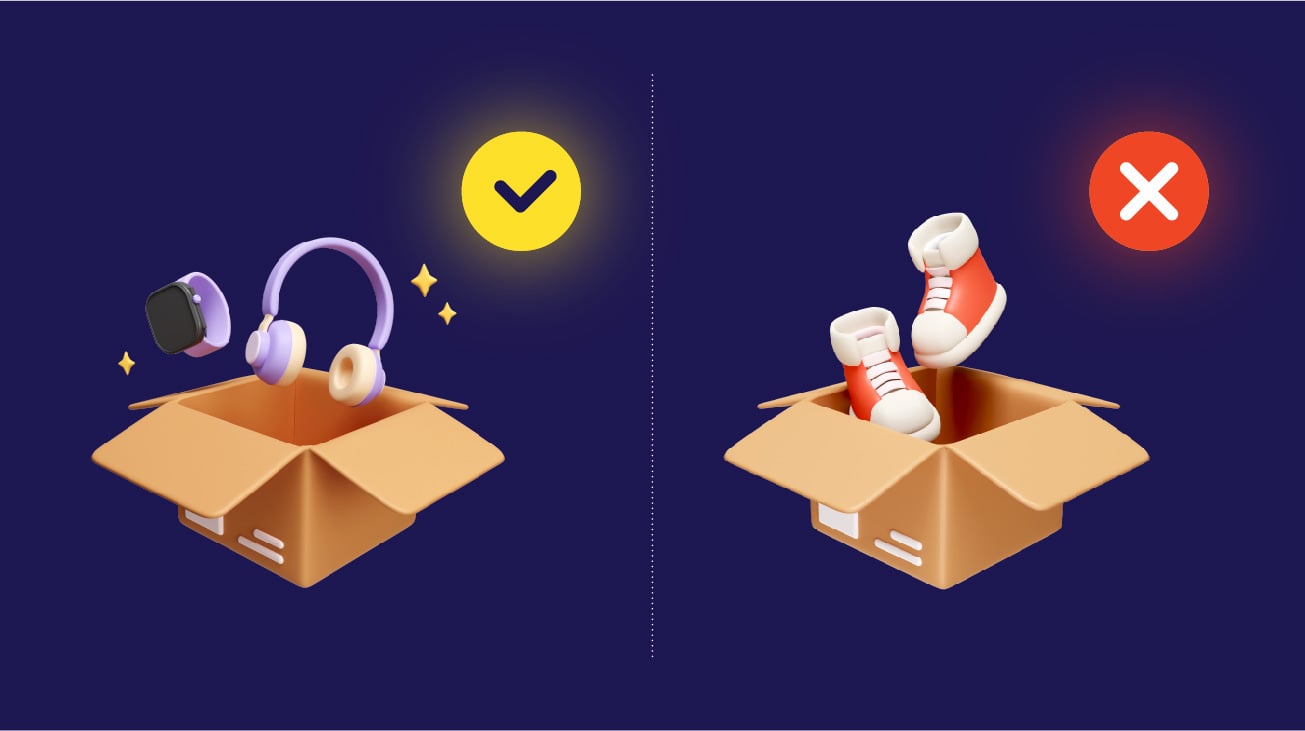 Mark Lo, PPC Specialist at Incubeta, said he groups products by custom label and houses them in their own campaign.
Douglas Lelis, PPC Specialist at Raia Drogasil, wrote,
"There are big deals with several brands and industries to guarantee the best prices, and we also look at our competition."
Jon Quinton, said,
"Typically we use a combination of sales/performance data from the year up to Black Friday, assessing the competition and also discussing ambitions with the client. In most cases, the client will hold the decision on what products to push based on their margins and expected stock levels. However as their paid media partners, we will always contribute with the data we have to hand."
Freddy Hornsby, Digital Marketing Lead at Essence Media, wrote,
"We use data-driven tools. ROI Hunter in particular has been a great help. We're able to exclude products which aren't profitable as well as isolate the high-converting products into their own product sets."
How do you handle the increased competition for ad space during Black Friday?
Freddy Hornsby said,
"Prior to the sales period, we run campaigns to get people to sign up on our website so that in addition to PPC campaigns, users are also sent email reminders and push notifications through the app. This allows us to engage users early and remarket to them during the busiest sales periods."
Jon Quinton wrote,
"Typically it's a case of bidding more aggressively and adjusting CPA / ROAS targets when using automated bids. Most clients also increase spend significantly over the period to make sure they get as much volume as they can.
We of course also update all ad copy and creative to stand out amongst the competition, taking all our learnings and experimentation data from the year so far to build the best ads we can."
How do you leverage Black Friday for long-term profitability (e.g. customer retention, brand loyalty, etc.)?
Mattia Giorgi leverages Black Friday for long-term success by working to acquire new customers, creating an easy entry for customers to buy, and ensuring a great customer experience.
Hannah Tyrell said,
"We do encourage clients to see the peak period as a great opportunity to acquire new customers at scale. With less mature clients we would look to maximise the potential of discovery kits, underpinned by a robust CRM (Customer Relationship Management) strategy to drive replenishment / upsell of full price products. Lead generation for early access to offers through CRM is also an excellent strategy we're always keen to maximise too. Clients with loyalty schemes also benefit from tailoring offers and incentives that add value to the customer experience, for example GWP or free next day delivery."
At Adidas, Lerato Masenya, said,
"Members shop early access, get great discounts and receive points for shopping within the adiClub loyalty program."
Douglas Lelis uses, "several strategies, but the main ones are customer retention through exclusive offers and brand visibility."
Jon Quinton notes:
"Typically this is achieved through retargeting and re-engagement campaigns throughout the rest of the festive period and into the year ahead."
Marcos Maierhofer adds:
"Using the potential of the date to acquire new customers with the free subscription to our recurring purchase service, which helps to grow our higher LTV customer base."
Ben Tlhabadira, Social Media Analyst for Makro said,
"I think the audiences we gather from the peak season assist with remarketing months post the black Friday period."
Freddy Hornsby answered,
"Through a pre-sales push by enticing users to sign up and get early access to our Black Friday deals."
Roundtable analysis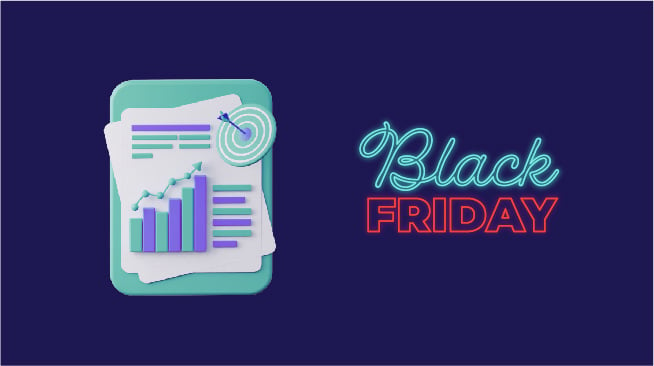 These interviews give valuable insight into how retailers approach Black Friday. Here is a summarised analysis of the key points:
Participation in Black Friday:
While most respondents indicated they participate in Black Friday, not everyone finds it worth the hype.
One expert, Tim Hölscher, believes that focusing on improving sales throughout the year is more important than excessively emphasising Black Friday. This unique perspective highlights that some retailers might be shifting away from relying on Black Friday sales to carry their yearly profit. Instead, some are looking at more balanced approaches to the holiday sales frenzy.
Timing and planning:
Most marketers start planning their Black Friday strategies in August or September, but some decision makers begin as early as a year in advance.
Continuous reflection sessions and post-Black Friday analysis are conducted to identify areas for improvement and inform future strategies. This proactive approach allows businesses to adapt and enhance their performance year over year.
Product selection:
The choice of products to feature prominently in Black Friday promotions depends on factors such as brand preferences, retail buying decisions, and competition.
Retailers aim to strike a balance between offering best-selling products and introducing customers to less-associated items, creating opportunities for increased sales and customer engagement. Some brands also leverage Black Friday to sell advent calendar stock, utilising the event for customer acquisition and brand experience.
Handling increased ad space competition:
To address the heightened competition for ad space during Black Friday, marketers employ strategies such as running pre-sales campaigns, bidding more aggressively, adjusting CPA and ROAS targets, increasing advertising spend, and optimising ad copy and creative.
Metrics for success:
While different companies prioritise different metrics based on their specific objectives and strategies, the majority of retail marketers focus on Revenue / ROAS (return on ad spend).

Some retailers ranked CAC (customer acquisition cost) equally as important in their analysis of Black Friday success. Margin and CPA (cost per acquisition) are playing decisive roles as well.
Business focus:
During Black Friday, businesses focus on various aspects, such as clearing dead and fragmented stock, showcasing new items, or prioritising a customer-first approach. Their emphasis is on balancing short-term sales opportunities with long-term value and customer experience.
Promoting the right products:
Product selection for Black Friday promotions is driven by sales and performance data from the preceding year, discussions with clients, and competition analysis.
Advertisers use various strategies to optimise their product offerings, including grouping products by custom labels, using data-driven tools like a PPM platform to group and promote high-converting products, and negotiating deals with brands and industries for competitive pricing.
Long-term profitability:
Black Friday is seen by professionals as an opportunity to achieve long-term profitability by acquiring new customers, fostering brand loyalty, and driving customer retention. Strategies include leveraging loyalty programs, providing value-added experiences, tailoring offers to enhance customer experience, and using CRM systems for lead generation, cross-selling, and upselling.
Additionally, data-driven systems, such as PPM (product performance management) platforms, are utilised to measure individual products' success (POAS, ROAS, etc.) across ad platforms, in real time.
Retargeting campaigns are also commonly used to maintain customer engagement beyond Black Friday.
Key Takeaways
Overall, the interviews highlight the importance of careful planning, customer-centric strategies, data-driven decision-making, and adapting to changing market dynamics for a successful Black Friday. By leveraging Black Friday not only for short-term sales but also for long-term profitability, businesses can drive customer acquisition, retention, and loyalty while maximising profit and brand visibility.
If you're interested in learning how to group your high-converting products into their own product sets, learn more here.