TL;DR Facebook released Dynamic Ads for Instagram will allow advertisers to promote their products to users that are most likely to purchase the product. This means that you can promote products that are even more visually appealing on one of the number one photo-sharing apps in the world.
Some new ad features come along unnoticed and quietly become a part of our marketing routine. The new Instagram ads update, however, is a true game-changer.
In May Facebook introduced Dynamic Ads for Instagram. Since users spend 54% of their time on mobile apps and 75% of customers say they have acted upon Instagram-induced inspirations, Instagram harbors significant conversion power for online retailers.
Defining Dynamic Ads
Dynamic Ads intelligently adapt to expose users to items they are most likely to buy, allowing brands to promote their full catalogs without having to configure each product ad individually. This makes Dynamic Ads the efficient advertising format du jour on the market, attracting e-shops that want to stay ahead of the game.
Dynamic Ads on Facebook
A potential customer viewed your new pre-summer floral product range, lingered for a while on one of the items but left before purchasing? No need to worry, Dynamic Ads will help expose that user to the very product they were interested in across all Facebook placements (Newsfeed, right hand column or audience network) . By uploading your full catalog, you no longer need to try to target individual products to broad audience groups – ads will dynamically adapt and appear in front of the right customer.

Dynamic Ads on Instagram
Facebook took a step further, allowing you to show your products on Instagram as well, activating the potential user without having to manually target each item. No need to create separate ad sets and target groups for each catalog item – just upload your list and sit back to watch the dynamic magic happen.
Ads on Instagram already have a higher click-through rate than Facebook ads, further reinforcing the purchase power of its considerably younger and more affluent audiences.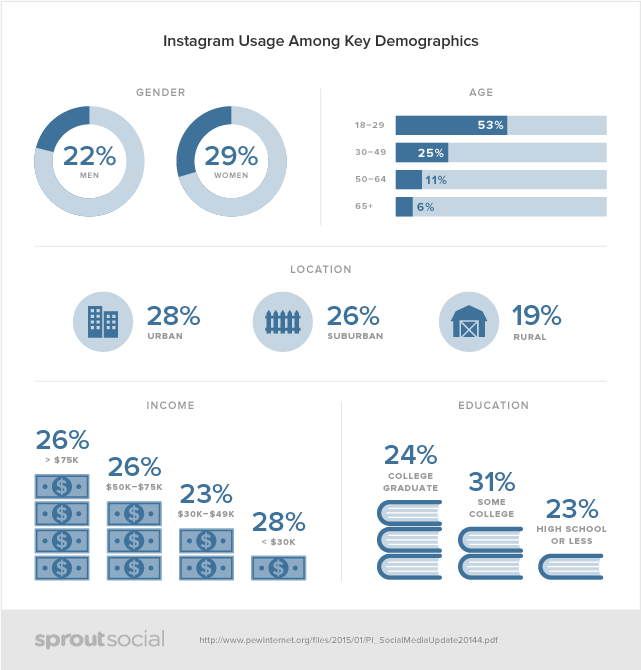 Instagram Dynamic Ads on Power Editor – the challenges
We have seen great returns from Instagram Dynamic Ads, but something that not many people talk about is all the hard work that lies behind-the-Instagram- ad-scenes.
Here are the 4 key things you need to be aware of if you are setting up campaigns in Facebook Ads Manager or Power Editor:
Creatives can get out of control

– product images in Power Editor come unoptimized and unedited directly from a catalog, frequently displaying incorrectly on Instagram – make sure to pre-edit your creatives for cross-platform campaigns
You need to do it manually

– Power Editor requires someone to manage ads 24/7, as online campaigns rarely take a weekend break
You miss out on key metrics in reports

– Facebook displays results using exclusively Facebook metrics, missing out on insights from Google Analytics or Mobile Measurement Partners such as Adjust or Appsflyer, making you spend extra time on cross-examining stats
It doesn't allow for any other campaign types except re-targeting
Dynamic Ads on ROI Hunter – the enhanced solution
Running your Dynamic Ads from ROI Hunter will allow you to:
Access the bespoke Template Editor for enhanced and Insta-ready images

– Instagram is extremely aesthetics-focused, as your ads need to compete with luxury shots of lifestyle bloggers, requiring a extra spark to stand out
Target users during all stages of the marketing funnel, including prospecting, re-targeting and cross-selling, significantly diversifying your reach
Utilize multiple measurement tools for effective campaign reports, using Google Analytics and MMPs for more accurate results
Employ automatic optimization rules, decreasing the time spent on manual campaign management (and sleeping better on weekends)
Already on ROI Hunter?
You can upgrade existing campaigns by picking Instagram in the "Placement" menu. Our Template Editor video tutorial will help you make your ads Insta-shine.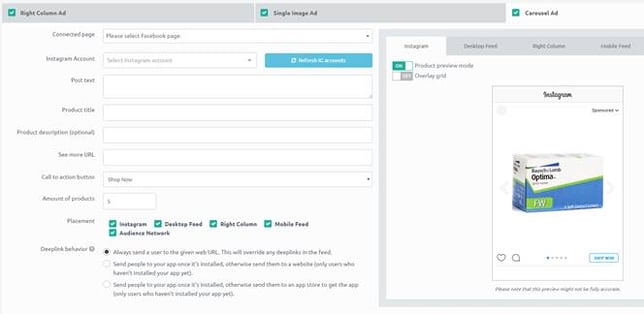 New to Dynamic Ads?
Check out our how-to guide on creating Dynamic Ads or learn how to make the perfect product catalog and not bother with XML feeds from our blog.
Sign up for the free trial of ROI Hunter to try Dynamic Ads for Facebook and Instagram today.