the challenge
Our pharmaceutical client has a large catalog (67,000 products) for their German market, and they were eager to gain more visibility and control of which of those products were seeing the most promotion on Facebook. For companies with expansive catalogs, it's a common problem for a substantial number of the ad impressions to go toward just a few top selling products.
In fact, when we analyzed the problem, we found that Facebook's DPA algorithm can spend roughly 50% of impressions on just 1% of the products. Fortunately, there's a relatively simple fix: rather than using one product set for the full catalog, retailers can create multiple product sets, each optimized toward a specific goal (best-seller, high margin, etc.) By splitting the catalog up in this way, retailers can control which products see promotion (and how much), and which don't.
The trickier part is searching through a catalog of 67,000 products to find which product should be in which set! For our client, that's where ROI Hunter's Product Insights tool came into play.
the solution
Product Insights gathers product-level data from across a company's channels, combining the data within ROI Hunter to form a single source of truth. Having the data all in one place makes it easier to understand and find trends with. Beyond that, the data is on the product level rather than the campaign level, making it granular enough to allow for filtering the catalog based on virtually any metric.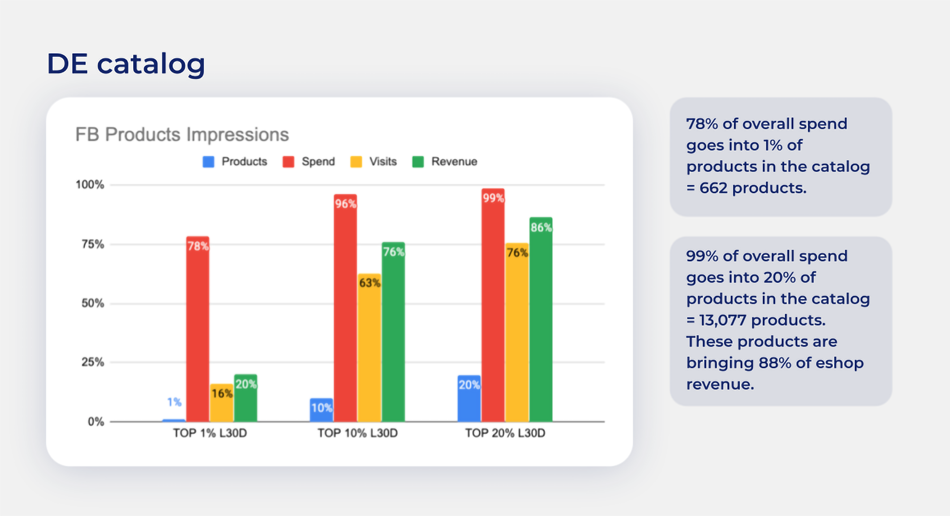 Using Product Insights, ROI Hunter created a Catalog Analysis for the client. A Catalog Analysis identifies multiple informative points on the current behaviour of the catalog, discovering information such as: the products being heavily promoted by Facebook, how much of the Facebook budget is being spent on them, and ultimately, whether or not these products are contributing to revenue (GA data). Using this, our client was quickly able to identify which segments of their catalog could have a significant impact on the performance of their dynamic product ads. This understanding of performance was enhanced further due to the Google Analytics data that had previously been integrated with the Facebook data.
SIDE NOTE: We've recently updated our tools to make it even easier to see where your budget is spent! Now clients can simply use our Catalog Overview for deep insight into their marketing spend across the catalog. Download Catalog Overview PDF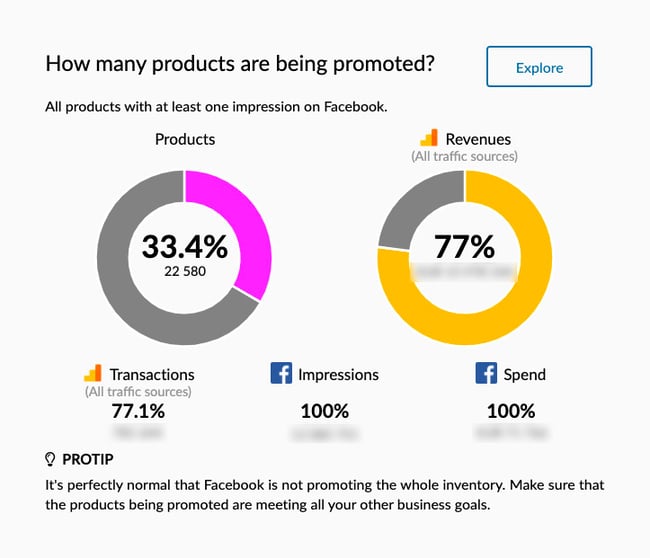 Having identified the parts of the catalog that were underperforming and those that had potential to increase performance, it was time to put some time-tested use cases into action:
Bestsellers
New Arrivals
Undervalued Products
Bestsellers: For prospecting audiences, putting your best products forward gives new potential customers the chance to be exposed to products that are best sellers. Utilizing the client's internal data, we used a filter to identify the top performing products in their catalog, and created a separate product set for them.
New Arrivals: New items can often be overlooked by Facebook's algorithm. The algorithm prioritizes products with high engagement, and new products don't have enough data to be able to tell. By creating a New Arrivals product set, based on a custom metric of GA Page Views over a 7/30 day window, our client created a product set to ensure these items wouldn't get lost in the crowd, and would be given a chance to get promoted.
Undervalued Products: The client filtered their catalog to find products with high results online (e.g. Google Analytics Transactions > X), but with low Facebook delivery (e.g. FB impressions < Y). By creating a separate product set for these undervalued products, they were able to encourage Facebook to allocate budget towards products they knew were performing well, even if Facebook wasn't aware. This is where additional data sources can be so beneficial.
the results
Within just a month, the use cases began showing results. Not only did our client see an increase in return on ad spend (ROAS) of 26%, but the new way of displaying their products led to a 7% increase in click-through rate as well!