The Challenge
When it came to customers, JioSaavn was focused on two things:
Generating higher user engagement through scaling their content, without having to manually create a bunch of ads.
Ensuring that all users were shown songs they had browsed, as well as relevant music recommendations, so that everyone felt valued throughout their music streaming journey.
They were experiencing a few issues related to these topics, irrelevant content/language promotion, attractive video creatives to bring users back. JioSaavn wanted to fix these issues while keeping every user's streaming experience fun, smooth, and effortless. Once this was all in place, they'd be ready to scale their ad spend.
More specifically, they wanted ways to:
Promote relevant content
Unlock the potential of Facebook dynamic ads, enabling them to promote millions of music tracks from thousands of playlists & artists
Achieve an optimal cost per user engagement
Automate the creation of ads and videos
Integrate their mobile measurement partners with their other data streams to bring everything into one place
Improve the user experience
To achieve these goals, JioSaavn had to upgrade their system. They needed their app's tech setup to be ready for dynamic campaigns, and they needed a way to automate the promotion of trending content in their app.
JioSaavn also needed to integrate their data streams: their internal KPIs are built on data from their mobile-measurement partner, so optimizing with Facebook data was not delivering the desired results. And lastly, in order to free up the time needed for testing and analysis, JioSaavn needed a way to reduce the time they spent on manual campaign creation and deployment.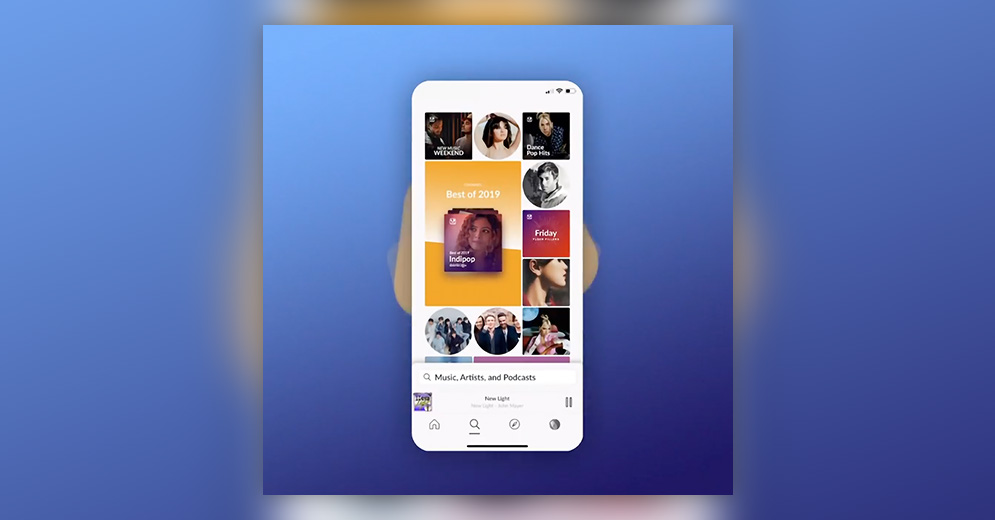 The Solution
ROI Hunter began their partnership with JioSaavn by helping them set up the required infrastructure in Facebook SDK. This unlocked the potential for JioSaavn to use dynamic ads, and enabled the promotion of millions of pieces of content.
Next, ROI Hunter enabled the creation of Custom Product Feeds, making it possible for JioSaavn to create specific product sets, and automate optimal promotions based on product-level data. Tools from ROI Hunter were also used to reduce the time JioSaavn spent putting together their creatives:
The Template Editor (TEDI) provides templates for creating dynamic product ads (DPAs), as well as the ability to create your own custom dynamic templates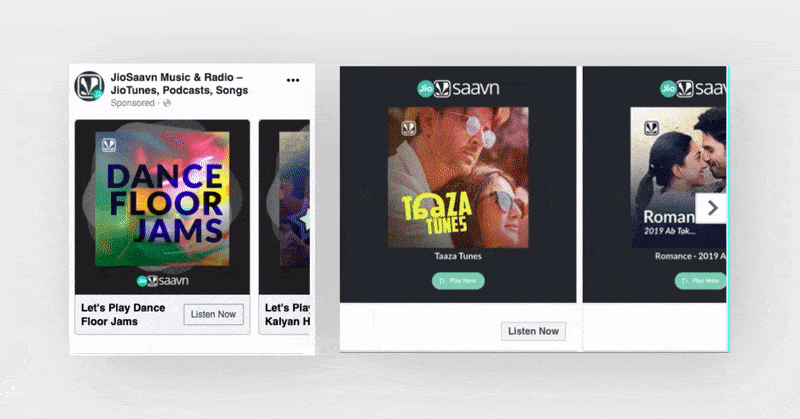 Creative Factory enables the creation of beautiful video ads in minutes, using just a static image

With TEDI and Creative Factory at their disposal, JioSaavn was now able to greatly reduce the time they spent putting campaigns together. The dynamic ads were able to scale conversions, and the ability to automate these campaigns saved JioSaavn even more time, which could be spent on analysis and optimization.
After seeing the success of this initial set-up, JioSaavn and ROI Hunter began to scale the dynamic ads even further, leading to even more impressive results.
JioSaavn's next step was to use their historical customer data to experiment with ROI Hunter's Ultra-Personalized Ads feature: once user histories have been integrated with ROI Hunter, each user can be automatically matched to their preferred products. Users are then sent a promotion for their ideal content, based on past interests. It's still too early to test the results of JioSaavn's Ultra-Personalized Ads, but take a look at our work with Slevomat for an example of how these ads can perform.
The Result
The newly available dynamic and the video ads were incredibly effective, increasing app opens (the video ads had a 67% lower cost per app open), and improving engagement on both the app and the website.
JioSaavn was also able to use new tools to scale their conversions by 400%. Not only that, the cost per conversion (CPA) was reduced by 75%, giving JioSaavn the chance to achieve dramatic growth.