the challenge
BRANTU was ready to begin scaling their promotions, but they wanted to do it sustainably, avoiding an increase in costs per results. Ultimately, the goal was to increase ad spend while also increasing (or at least maintaining) their original order volume and return on ad spend (ROAS).
There are numerous things to keep in mind when scaling Facebook Ads, including the learning phase of the Facebook Algorithm, the optimal budget spent, and the structure of the campaigns with budget allocation, among others.
It's easy to scale vertically by increasing spend directly to reach the intended objectives, but BRANTU wanted to put a more sustainable strategy in place.
the solution
ROI Hunter helped BRANTU put together a strategy to implement during Black Week (19-29 November 2020), a great opportunity to try a specific solution and scale the right way. They took a 360° approach, including everything from Audiences to Creatives, in order to identify the right opportunities to make the most out of the Black Friday Promotion.
Creatives Revolution — Template Editor and Creative Factory
Working with ROI Hunter's Template Editor (TEDI), BRANTU put together a new template specifically for the Black Week promotion, highlighting the main product information: price, discount, and brand name.
The template included information in both English & Arabic in order to appeal to a greater number of potential customers. By using TEDI, BRANTU was able to schedule the promotion launch ahead of time, and even complete Facebook's learning phase before the Black Week campaigns even began.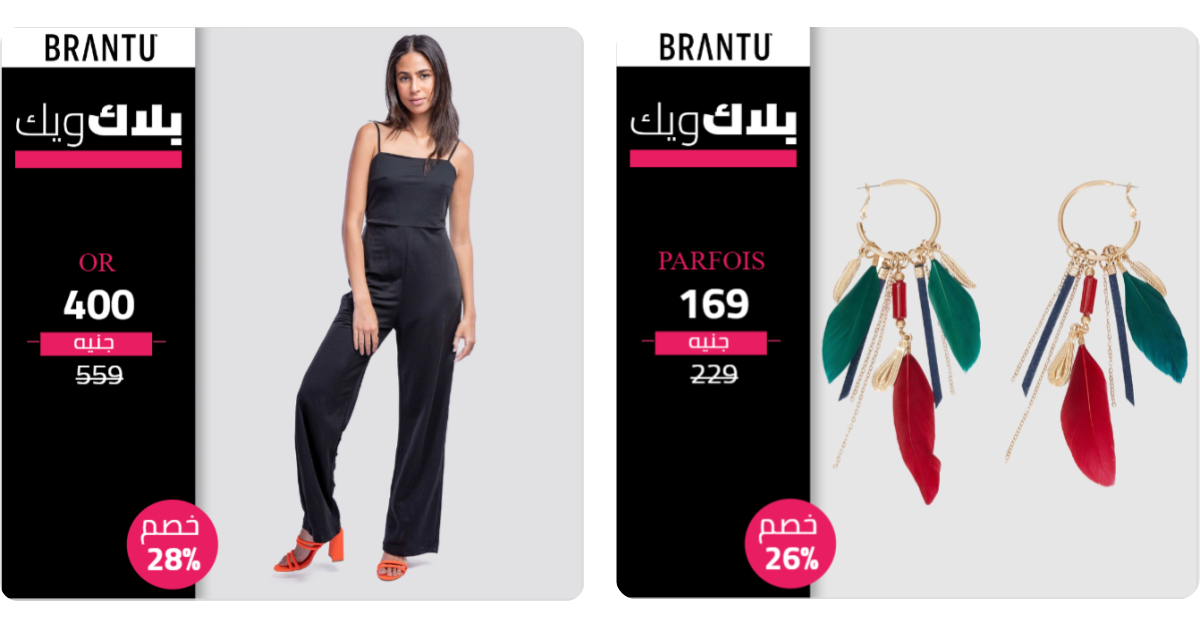 BRANTU also created a Video Views Campaign as a teaser for Black Week. In order to put it together quickly and without needing a production team, BRANTU used ROI Hunter's Creative Factory, which makes it possible to create videos in minutes using just a static image. The videos were created in both Feed and Story format in order to gather as many results as possible.
Audience Scaling
ROI Hunter helped BRANTU scale their audience with the Refine Audience feature, which uses the Facebook Pixel to further analyze on-site customer behavior (content views, items added-to-cart, purchases made within the past 180 days, etc.), narrowing down the retargeting audience to just those visitors most likely to make a purchase. This allowed BRANTU to scale during Black Week without spending unnecessary budget on disinterested visitors.
The audience who had viewed BRANTU's teaser video was also targeted. This was a great success, as it enabled BRANTU to retarget high-intent viewers directly with products from the catalog.
Product Insights
The Product Insights feature from ROI Hunter gathers product-level information from all channels, combining it within the ROI Hunter platform to create a single source of truth.
Using this tool, BRANTU filtered their catalog for highly specific metrics (top 20% revenue generators on Google Analytics, products with the most overall transactions, etc.). This enabled them to create specific product sets, each optimized for their own unique goal.
By using multiple product sets rather than one product set for the full catalog, BRANTU had much greater control over which products would receive promotion. (For companies with large catalogs, using only one product set can lead to Facebook's algorithm focusing 50% of total impressions on just 1% of the catalog.)
the results
Combining the results of the creative scaling through TEDI and Creative Factory with the audience scaling methods and specifically selected product sets, the Black Week performance strategy showed significant improvements over standard campaigns. Most substantially, Facebook Purchases increased by 92%, along with a 77% increase in Ad Spend. Finally, the cost per purchase (CPP) was down 8%, and return on ad spend (ROAS) increased by 19%.