the challenge
Sephora's Brazilian e-commerce site is large and popular, but there were still improvements needed in order to truly optimize the dynamic campaigns they were running. Sephora wanted to increase their revenue; they wanted to realize a greater ROI from their campaigns.
To achieve this, Sephora needed deeper insight into the performance of their products and a method for using that insight effectively. They also needed a way to apply these changes at scale.
the solution
ROI Hunter began by setting Sephora up with Product Insights. The Product Insights feature gathers product-level data from across channels, combining it within ROI Hunter to form a single source of truth. This provided Sephora with several advantages:
Integrating the information into one area made it simpler for Sephora to use data from Google Analytics to inform their Facebook campaigns (and vice versa).
Having access to product-level data gave Sephora an understanding of the true performance of each of their products, rather than just the macro-level understanding of the success of the promotion.
With the new wealth of data, Sephora was able to filter their catalog for whatever metric they could think of, which made it easy to create product sets optimized for specific goals (e.g. bestsellers, most profitable, etc.), and keep the sets automatically updated when new items were introduced.
Sephora used Product Insights to find their top 20% best-selling products according to Google Analytics, then created a product set from them for use on Facebook. By creating this separate product set of bestsellers, Sephora was able to control which of their items were receiving promotions. They could ensure that customers would only see promotions for Sephora's most popular items during Black Friday week prospecting, thereby increasing the chance of a conversion.
Next, Sephora used ROI Hunter's Template Editor (TEDI) to create a special template for Black Friday actions. TEDI makes it possible to create dynamic ads in minutes without a graphic designer, but it also offers the option of scheduling promotions out ahead of time, and of applying if/then conditions.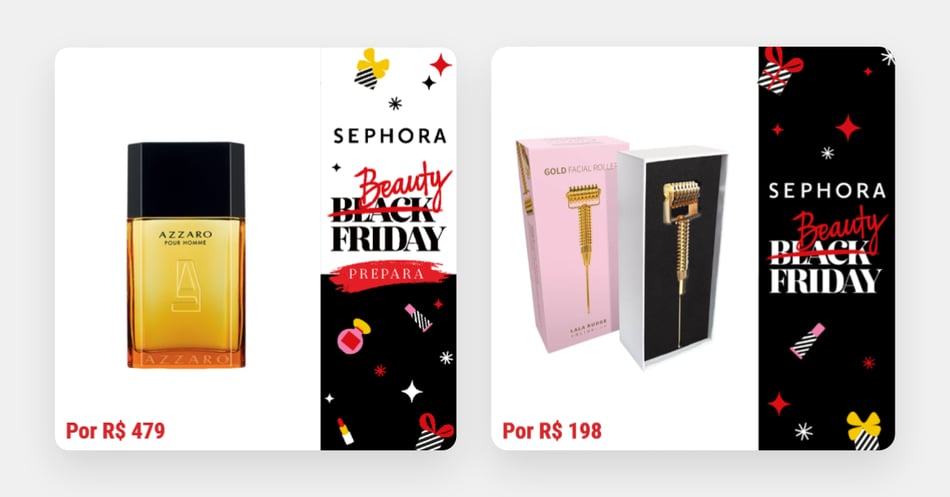 the result
With their bestseller product set defined, and a Black Friday template optimized for ideal performance, Sephora was able to make dramatic improvements to their Black Friday prospecting. First off, they ended up spending almost 17% less on promotion, but increased both revenue and number of transactions by 14%! Even better, at the end of the campaign, they saw an increase in ROI of 43%.