Challenge
GastroHero sells over 10,000 different products for the B2B gastronomy industry. While online advertising is a very important channel for this company, the industry and type of products pose a complicated challenge. Firstly, the type of products, professional kitchen appliances, are by definition not visually appealing for social media. Secondly, the vast number of products makes it virtually implausible to create and manage the creatives using standard Facebook Ads Manager. These factors drove down CTR of the ads, which in turn negatively affected the revenue generated and therefore ROI.

The company has therefore reached out to us, to help them solve this challenge using the automated generation of visually appealing Dynamic Product Ads using ROI Hunter Template Editor.
Solution
In order to solve this challenge, we have conducted several steps:
During Professional Onboarding we have analyzed the account and identified all the crucial steps needed to be done to fix the situation.
We have connected the GastroHero's Product Feed to ROI Hunter's Template Editor and taught the client, how to create stunning Dynamic Product Ads at scale.
We have worked with the client hand-in-hand to run first campaigns, making sure that all the factors are perfectly aligned for maximum campaign performance.
This form of co-operation is a perfect example of when expertise gets connected with increased technical capabilities to bring truly stunning results for the client.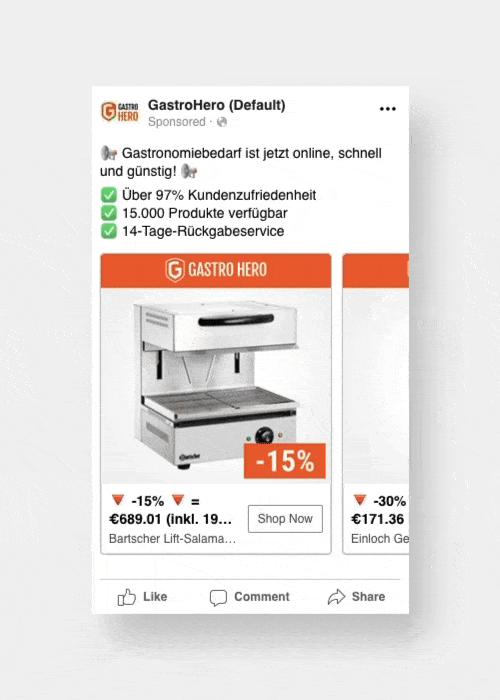 Results
The client has created Dynamic Product Ads using Slideshow Templates, using ROI Hunter, which generated the following results: