the challenge
Like many retailers, L'Occitane needed to adapt to the changes brought about by COVID-19. Beyond just keeping sales consistent, they wanted to use this as an opportunity to increase their online revenue and overall ROI even further.
More specifically, there were several hurdles L'Occitane needed to overcome in order to make their goals of higher revenue and ROI a reality:
Greater insight into their performance
A method to strategically use their business data
A more agile way to create and manage their campaigns
A campaign structure that used automatic placement
L'Occitane began working with ROI Hunter to create this set up, and accomplish their goals.
the solution
First, ROI Hunter connected L'Occitane to Product Insights. The Product Insights feature gathers product-level information from across channels (Facebook, Google Analytics, Google Shopping, custom sources), integrating it within ROI Hunter's platform. This single source of truth makes it far more possible to compare performance between channels, as well providing data granular enough to filter the catalog for just about any metric you can imagine.
With Product Insights up and running, L'Occitane was able to filter their catalog to create highly precise product sets, optimized toward specific goals (higher revenue, Greater ROI, etc.) By connecting their own custom data source of "Favorite" products from their sales all over the world, L'Occitane ensured that every product being promoted was something deeply desirable.
Next, ROI Hunter introduced L'Occitane to the Template Editor (TEDI) to improve the agility of campaign creation. TEDI's design features make it simple to create (and scale) dynamic promotions, even without a graphic designer. For L'Occitane, one of the biggest benefits of TEDI was the ability to set up conditional triggers with templates. Using this functionality with their custom source and other data, L'Occitane was able to automate badges on their promotions indicating sales price, special discounts, free shipping, etc.
PROMOTION WITH SPECIAL DISCOUNT USING VOUCHER: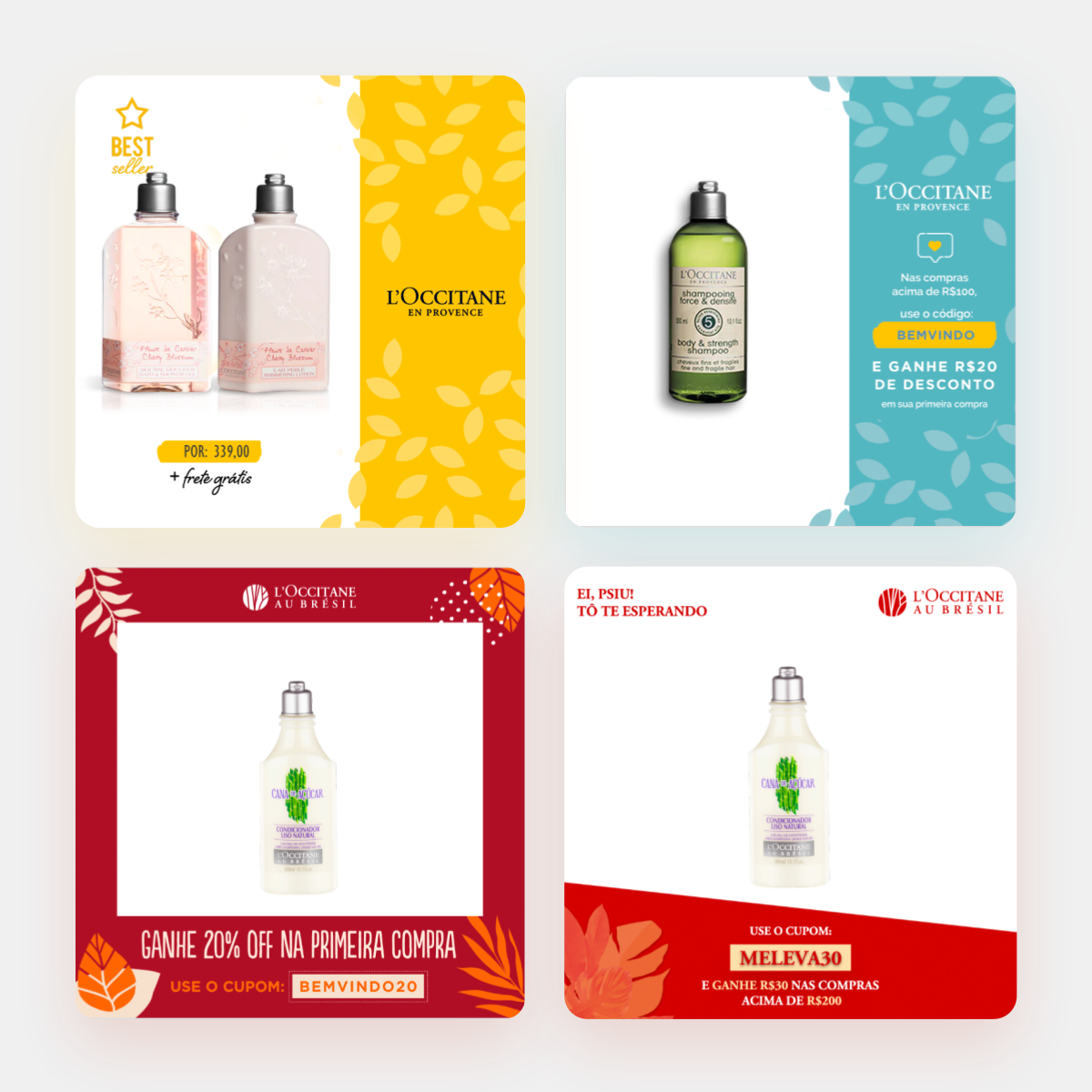 With the products sets compiled, and the campaigns designed and ready to scale, L'Occitane was ready to launch their first Dynamic Ads for a Broad Audience (DABA) campaign. DABA campaigns target people on Facebook who have not been to your site, but who have shown interest in products on other sites similar to what you sell.
the result
This new prospecting campaign brought L'Occitane the revenue and ROI they were looking for. The new promotions looked great, the product sets kept the budgets focused on promoting the right items, and they managed to even increase revenue while they were scaling.