Challenge
Danube owns multiple supermarkets in KSA. As the benefits of e-commerce became more apparent to residents in KSA, Danube decided to create an app that would allow their users to purchase products on the go. As with any app, their primary goal was to increase user acquisition. To do this, they decided to test the following variables and gain some insights to inform their ad strategy:
type of optimization goals
ad set segmentations
The goal of the campaign was to test multiple factors for their App Install campaigns which could impact performance and Danube's strategy moving forward.

Examples of Danube Ads we split test
Solution
The first step we decided to take was to define the type of tests we wanted to perform and to apply what we learned from the first iterations to consequent split tests.
After deciding which was the best target audience, we ran the tests to determine the following:
which goal to optimize for
how to group geographically
identify creative types that work better by creating customized creatives for specific audiences
Although Facebook has a split test tool of their own, our advanced split-testing tools made it possible for Danube to:
Deliver selected ad sets or campaigns to overlapping audiences based on their chosen percentage
Create split tests on previously created campaigns and customize the duration as required
Test any layer of the campaign like the ad set or ad or even the whole campaign itself for your chosen variable
Continue with the winning campaign under a regular environment
These advanced features gave Danube even more control over their tests.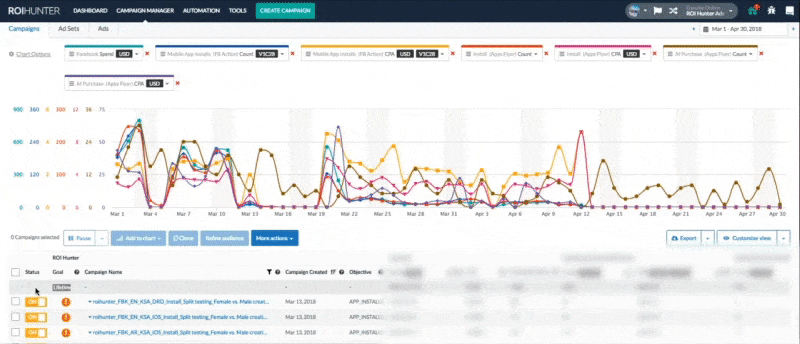 Split testing in ROI Hunter
Results
The results for the three split tests we ran are as follows and the winning variations have helped us with improvements: