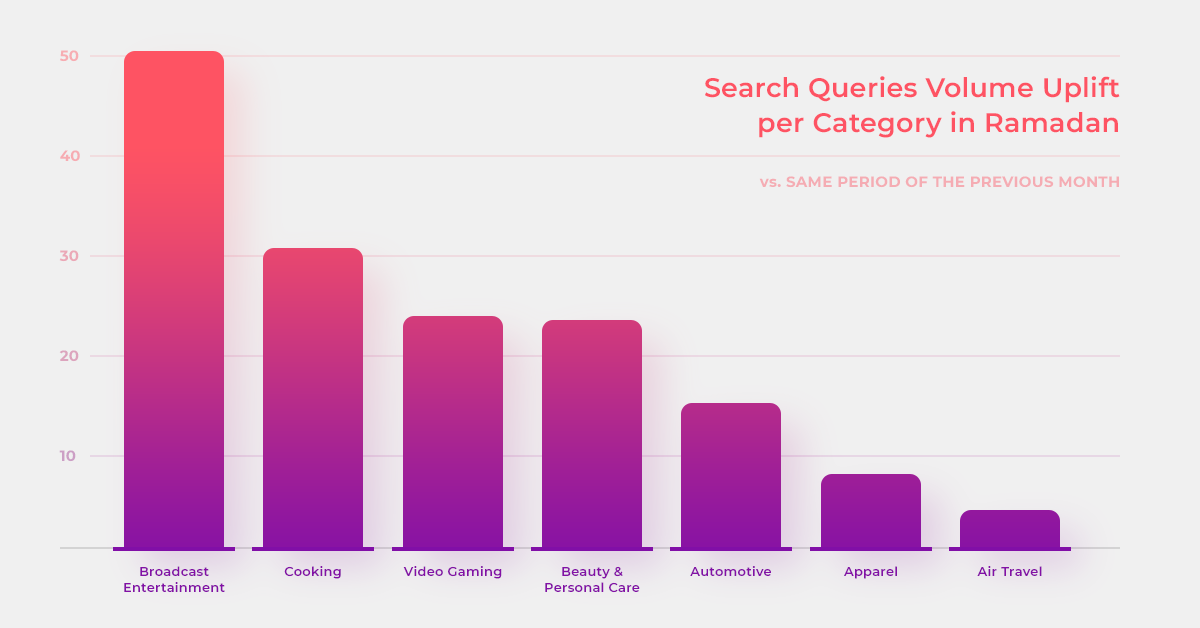 Ramadan's impact on your industry
Insights into the demand for products and services you provide will allow you to run a successful campaign full of creative and connective messaging. As Ramadan has a different effect on different types of industries, having insights into consumer behavior in response to your relevant industry over the course of Ramadan can have a massive impact on how successful your campaign is. For example, if you are in the food industry, restaurants should be active throughout the month by inviting people for Iftar and Suhoor. Certain industries such as airline and travel sites should plan ahead and focus their efforts on the first part of Ramadan as people may want to travel during the Eid holidays. Clothing and beauty sectors experience a surge in purchasing during the second half of Ramadan and can accordingly run offers and discounts during the time when the competition is at its peak. Planning ahead with key data insights allows you to be aware of any opportunity to connect with existing and potential customers.
Get into the spirit of Ramadan
Now that you know 'when' to focus your campaign efforts, the next step is that you need to know 'what' to focus on. Search interest in topics related to Ramadan inspired make-up, clothes and recipes surges during the holy month and creating Ramadan themed content still relatable to your vertical will help organic searches and interest in your brand and products. This helps the marketing and re-marketing aspect of your campaign. You can also collaborate with relevant influencers (ensure the person you reach out to compliments and aligns with your brand) to further your reach and create content that is authentic and memorable.
Additional Tips:
Schedule your campaigns accordingly to make sure you reach the audience at the right time
Be ready for the price increase - watch if your budgets do not limit the delivery
Start advertising in advance to collect audience and utilize it in a later stage - trying to get attention for your Eid sale campaign during Eid itself will be too late