This creates big opportunities for businesses and advertisers to plan big promotions during the season however, the discovery of products and services can begin at the early stage and the purchase goes beyond the Ramadan month. It's good to reach your customers from the beginning. We have tips for everything right from planning awareness to deciding the bid types during this highly competitive season:
Build awareness:
We have seen high competition in branding objectives such as post-engagement and brand awareness previously. When planning your campaigns, be aware that other brands are just as eager to be seen. Prepare in advance and consider using engaging creatives like videos and carousel ads leading up to the season.
Also as people start discovering ads weeks ago so it's important to build your brand and stay on the top of customer's mind which help drive sales later. Specially ecommerce businesses see the positive impact on their bottom funnel conversions with the brand awareness at the right moment.
If you have no special creatives, you can still create a buzz about the upcoming promotion within your existing ads. Using ROI Hunter, you can display slideshows within the ads and increase the CTRs of your dynamic advertising and Video collection campaigns is another quick way to display some exclusive offers.
Here are a few sample Video collection ads:
| | |
| --- | --- |
| | |
| An ad example from Axiom Telecom | An ad example from Max Fashion |
A glimpse of the available templates at ROI Hunter for the Video Collection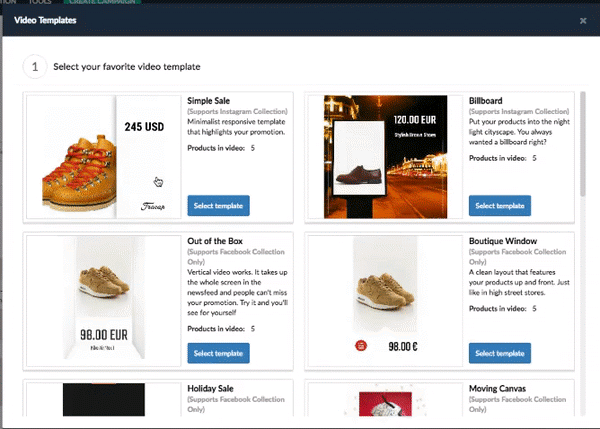 Drive Prospecting:
Mobile usage is incredibly high during Ramadan, so make sure your message and assets are optimized for mobile. Find prospects with mobile app install ads, and drive people to your website through Mobile and advertise the most engaging content on mobile like slideshow, videos, collection as Ramadan is the month of Mobile on Facebook.
Also, different verticals would want to plan different strategies. Restaurants, travel websites, and e-commerce brands all have their special place during this Holy Month.
Restaurants should be active throughout the month to invite devotees for Iftar, Suhoor, family meals and about the fast delivery etc
A travel advertiser would want to reach out to people travelling home for the holiday with relevant messages with the Facebook expat targeting as Ramadan is a time when people travel to be with family and loved ones.
E-commerce companies can expect high traffic in the beginning of the month, slow down in the middle and but should expect a surge in purchasing during the second half again.
Smart Remarketing:
It's important for businesses to reach the right people who've shown interest in their products through smart re-targeting so that businesses can drive incremental transaction during the season.
You should consider targeting the audience with the highest intent who have interacted with your app and website, create different segments as per their behavior while on the website or app and build mutually exclusive audiences at Ad Set level by excluding overlapping audiences.
Cover the ones who visited your website, browsed categories or other areas of content on your website or app, Installed your app, but didn't open any content inside the app.
If you have a product feed and the FB pixel/SDK implemented, you can set up dynamic ads and re-target automatically also enhance the images with the Template editor at ROI Hunter.
Here are some examples of Ramadan templates with special symbols:
Bid, Budget and Optimization during Ramadan
You can use the auto-bid function on Facebook bidding and let the system determine the right bid for you especially when you're unsure of how to bid. However, if you are struggling with the delivery of the campaign, then consider using manual bidding. Usually advertisers should make sure to bid what the ad is worth to them and keep the budget at least 2X of the bid for the system to deliver well but consider bidding higher than usual and do not restrict the budget during this season.
Select appropriate conversion window considering the purchase cycle of the product you are selling. Products that require longer consideration periods (e.g. a car) will need longer conversion windows. Try out different conversion windows if you have problems with delivery, and Split test to see which works best.
Creative best practices:
As mentioned above, one should use the most engaging creatives and videos.
We highly recommend to utilize Slideshow for Dynamic Ads, Ramadan Special Template, Video collection at ROI Hunter s and give a special festive touch to the look of your ads.
Have relevant creatives and use Ramadan symbols. This will help to improve the connection between your brand and customers as it will touch on how they may feel and think during this time. It may also help to improve brand awareness or keep your brand top of mind as flagrant advertising may be seen as exploitative.
At the end of the day, as with any special event or season, the most important thing to do is to have a game plan for changes in behavior and be willing to adapt as necessary. This is the only way to have rockstar results and to beat the higher competition.