TL;DR

Facebook has released a series of free training resources for marketers. We must say that we are really impressed with their offering. Facebook generally works on education of the market, but this is a really nice course format. If you're looking for a free resource for beginner Facebook marketing training,

Blueprint

is a great place to start. Many of the courses are quite valuable and a great fit for both newbies and skilled marketers.
BLUEPRINT – HOW TO START?
Just go to the Blueprint page and choose your path. For the beginners it's recommended to do all courses from the beginning. More advanced users can choose what they are interested in. Facebook offers a series of 34 lessons covering wide ranging marketing topics.
Courses are broken down into the following categories:
Introduction to Facebook
Best Practices
Facebook Pages
Purchasing Ads
Managing Your Ads
Advertising Objectives
Targeting
Campaign Optimization
Reporting and Measurement
Additional Insights
All Courses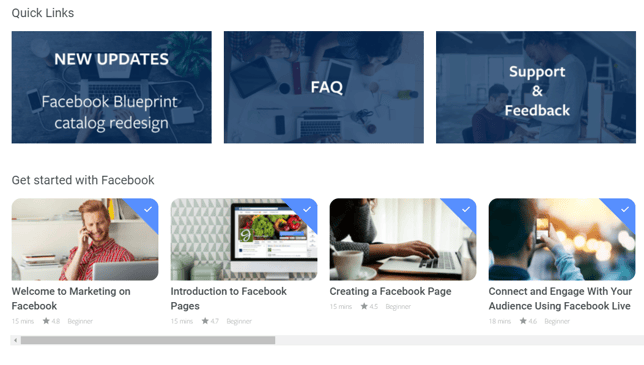 And here's a list of all courses offered within Blueprint:
A/B Testing
Ad Policies
Ad Reporting
Ads Create Tool
Ads Manager
App Engagement
App Installs
Boost Your Posts
Brand Best Practices
Brand
Brand Measurement Solutions
Business Manager
Buying Channels
Campaign Structure
Clicks to Website
Creating a Facebook Page
Creative Best Practices
Data Driven Marketing
Digital Buyer
Digital Planner
Direct Response Best Practices
Direct Response
Direct Response Measurement Solutions
Event Responses
Facebook Exchange
Facebook Terminology
Introduction to Facebook Pages
Mobile SDK
Offer Claims
Page Likes
Power Editor (Advanced Advertisers)
Reporting & Analytics
Sight, Sound and Motion
Successful Campaigns
Targeting – Core Audiences
Targeting – Custom Audiences
Targeting – Lookalike Audiences
Video Views
Website Conversions
Welcome to Marketing on Facebook
Here's the view of an individual lesson overview…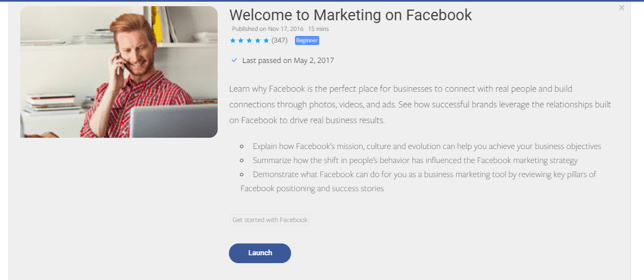 There is a brief description and time-estimate (how long it will take to complete the lesson – most often 15 min). Simply click the "Enroll" button to start.
We highly recommend to take a look at these courses. You can find there not only basic knowledge about Ads, but also many Success Stories and Case Studies from all over the world. After finishing each course you will get a certificate from Facebook.
So what do you think about Facebook's new training resources? Have you already finished all of them? Most of our team did :)