Traditional A/B testing
Traditionally, A/B testing was a manual process where you had to discover which audience responded to which ad by creating fully formatted ads and then test each of them individually and manually. This process is time-consuming, heavy on manual labor and only allows you to effectively test one variable at a time (creative or target market).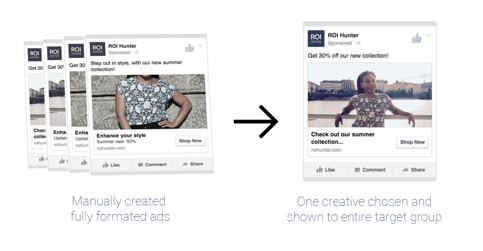 Dynamic Creative – the future of ads creation
This time-consuming process has been replaced by a new technology which automatically evaluates every creative aspect of an ad and applies them to various audiences through machine learning. With Dynamic Creative, all you need to do is upload all of your creative assets (headlines, texts, descriptions, and images) and select one broad audience to be placed into a single "pot".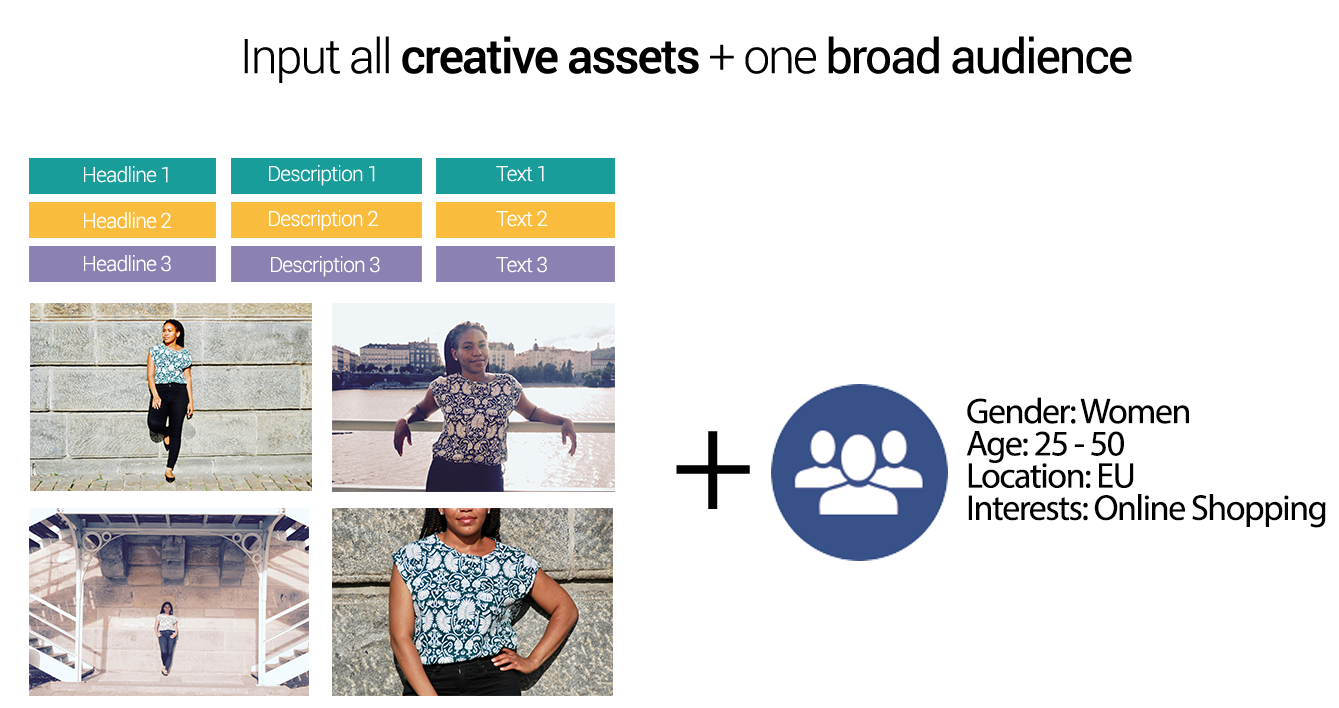 The DC technology automatically creates variants of ads and matches them with various audience subgroups. Up to 100 such variations may be created, thus out-counting the realistic possibilities of manual A/B testing.



Facebook uses part of your budget to feed machine learning; which combination of creatives is efficient for which audience. The bigger the budget you set up the more you teach the algorithm but it can be slow so be patient and do not turn off or edit campaigns in the first 2 days.
This way, ads are tested automatically, making it easy for the right ads to be served to the right people. As you can see in the graph below, DC will be able to determine the best performing combinations of the creatives and audience within 2-3 days, and optimize against your CPC, Website Conversions or Mobile App Installs (see the red-orange line).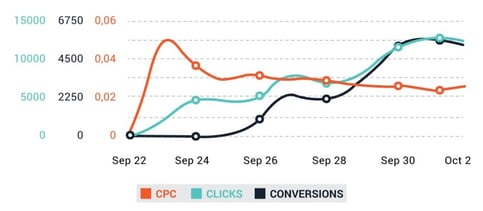 Since each combination will be matched to its audience, your ads will have bigger reach thanks to a better relevance score and CTR. You shouldn't look for the best image and copy but only try to improve upon the worst assets to reach even more people.
What would happen if you decided to use only the best of each asset? Your ad would reach only the part of the audience which is suitable for that combination and you could miss a huge part of your audience which would be reached by other combinations.
Dynamic Creative and Carousel ads
It is also possible to use this function with the Carousel ad format. DC carousel uses your texts and images to create the best performing combination of cards. All cards will be directed to one destination URL. Facebook will display 10 cards in the live ads.
Running a Dynamic Creative campaign
Dynamic Creative has been part of ROI Hunter for a few months and you can use it together with our Image Editor (so you can enjoy Dynamic Creative even with one image)
To get started with Dynamic Creative on ROI Hunter:
Create a new campaign

Define a broad audience

Create your mix of creatives

Run the campaign

Facebook will create combinations of creatives from the mix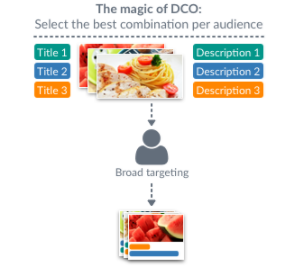 Dynamic Creative Success Story
ROI Hunter's client Growww Digital is an agency that has been using ROI Hunter's platform to help their own clients achieve better ROI on their ad spend. Bónusz Brigád, their client, had an objective to increase newsletter subscriptions. The agency used ROI Hunter's platform and applied Dynamic Creative to ensure campaign success and return on investment.
The following ad creatives were selected: 4 images, 3 titles, 3 descriptions. See preview of possible variations below: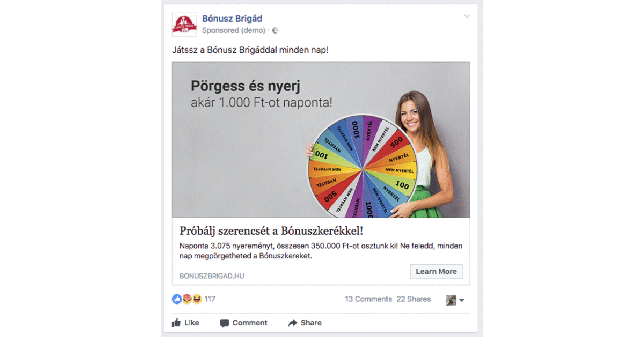 Dynamic Creative technology then tested the variations. After 3 days, the campaign was optimized and achieved incredible results
:
70,000 clicks

CTR up from 0.47% to 2.17%
CPC down from €0.13 to €0.07
Newsletter subscription increased by 461%
Our clients also run DC for Website Conversions and to get Mobile App Installs and have so far seen up to 3x better results! If you would like to learn more about Dynamic Creative, download our whitepaper, "Everything You Need to Know About Dynamic Creatives"
Run your first Dynamic Creative campaign, and try our platform today!