Why Back-to-School campaigns are so important, and how to do them right.
It's more than likely you have already planned your back-to-school promotions for the 2019 online shopping season, but there is still time to improve the performance of your sales events. This may save you time while maximising your purchases, which is why we have prepared this article for you.
There are several important shopping events coming up that businesses should be aware of. Black Friday and Christmas seasons are obvious for Western advertisers, and back-to-school should also be on that list. If you are searching for a great opportunity on how to get rid of stock, get ready for winter campaigns, and improve your cash flow, look no further.
Why is it important?
The back-to-school season is big business: it's just behind the holiday season in regards to sales numbers, and marketers can't afford to miss out.
The last few weeks' of August are typically thought of as the peak of back-to-school season. Back-to-school shopping peaks mid summer and 60% of shoppers are likely to start shopping approximately 4-6 weeks before school starts; however, these shoppers expect to spend less than very early or late starters. Shopping is expected to peak in late July and early August, accounting for 62%, or 17.3B of all spending.
Most back-to-school spending will continue to occur in store, the majority of shopping is likely to shift online from those who were undecided about channel.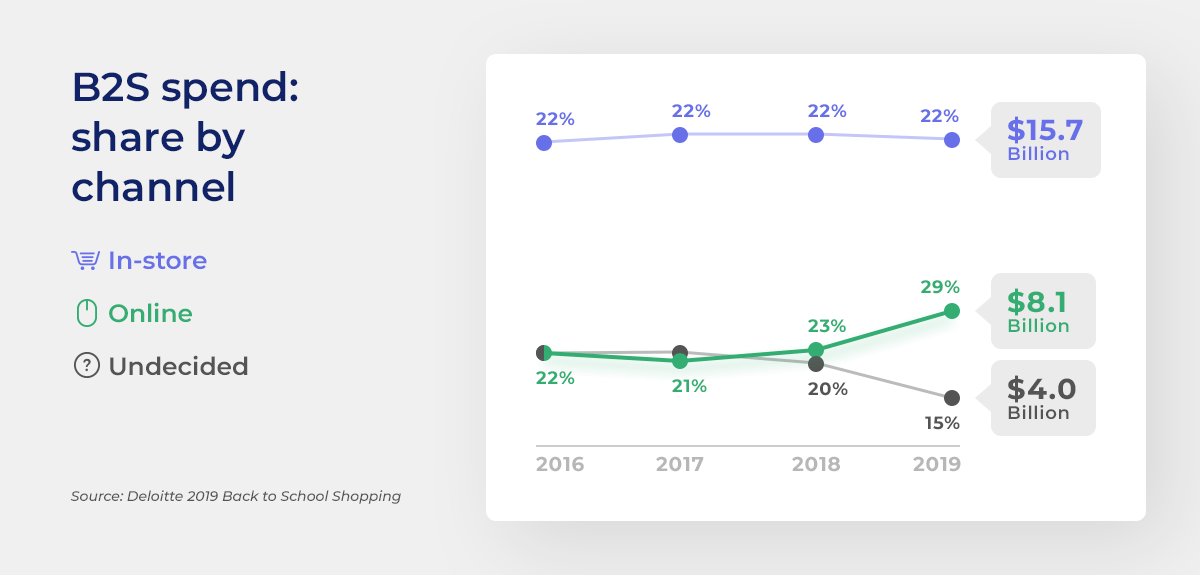 Back-to-school season is especially lucrative because it's not just limited to school supplies like paper and pens. It also includes clothing, accessories, electronics and more. In fact, Deloitte predicts that in 2019, $28 billion in spending will occur from shoppers in the US during this season, which is more than what they spend on Valentine's Day, Mothers Day and Father's Day combined. In 2018 the statistics were much different where planned spend for back-to-school was expected to grow by over $40. The average spend on back to school campaigns in 2018 was $465 vs $507 in 2019.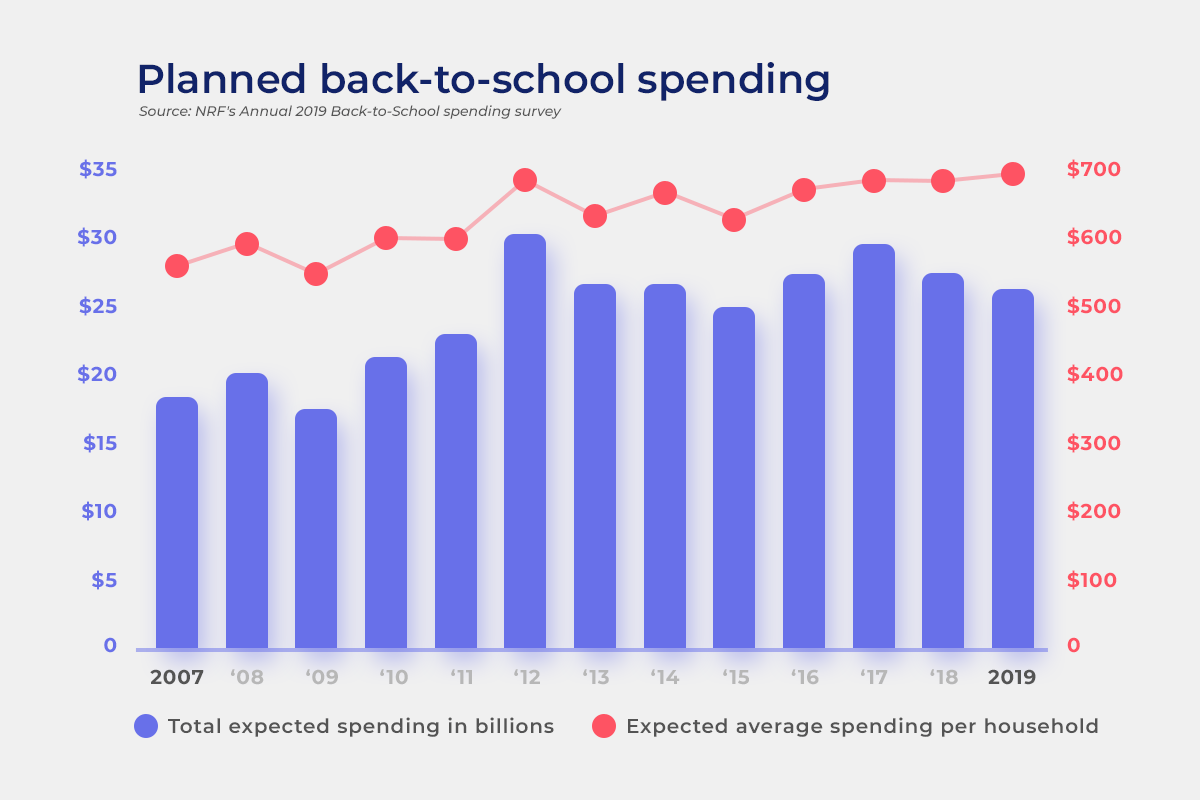 Buyers tend to spend the most on clothes, consumer electronics and shoes. The electronic gadgets category is expected to see its largest increase in online shopping while in-store shopping continues to dominate school supplies and clothing. When compared to the statistics from 2018, electronic gadgets are also the only category where online sales are expected to grow at the expense of in-store sales.
It's no surprise that price is the most important consideration when choosing where to shop for back-to-school season, followed closely by product and convenience. According to NFR research, for 69% of shoppers, price is the biggest determining factor for the items they buy in back to school season, and 71 % of shoppers will wait until they find a deal.
When considering where to shop for back-to school-season, product and convenience are following.
Online shoppers take into consideration free shipping, and in-store shoppers store location. But sales and discounts are at the top of the list regardless of channel.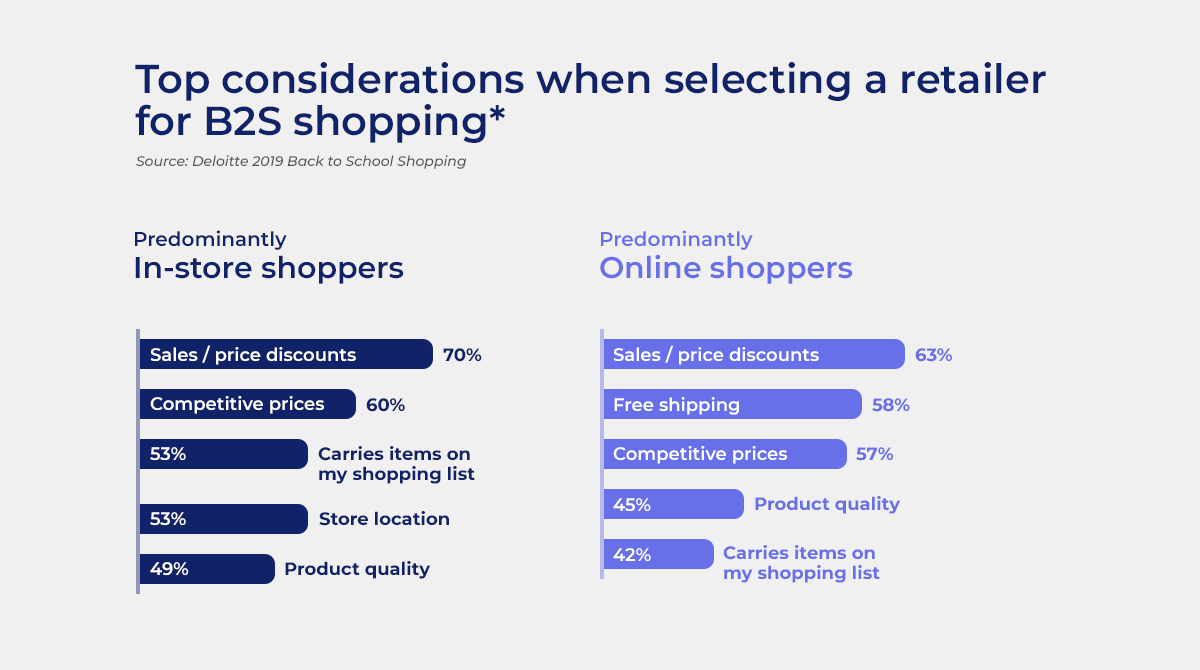 For back-to-school campaigns in 2019, it's all about starting early. It typically starts in July through to September. This is why it's crucial that brands carefully plan their digital back-to-school marketing strategies and find opportunities to reach their target audiences. In mid-summer, brands such as Office Depot and American Eagle are already releasing their back-to-school campaigns, and this may be due to competition with Amazon Prime Day marketing.
RH tip:
Start your marketing at the end of July and make sure to integrate physical and digital commerce together. Tell your customers about the sale earlier through your website, social media, and other channels. Having a clean launch of the campaign is important. When setting up campaigns, take into account that there will be higher competition in the marketplace, limited inventory and higher CPMs.
How the game changes
'Back-to-school' in Google Trends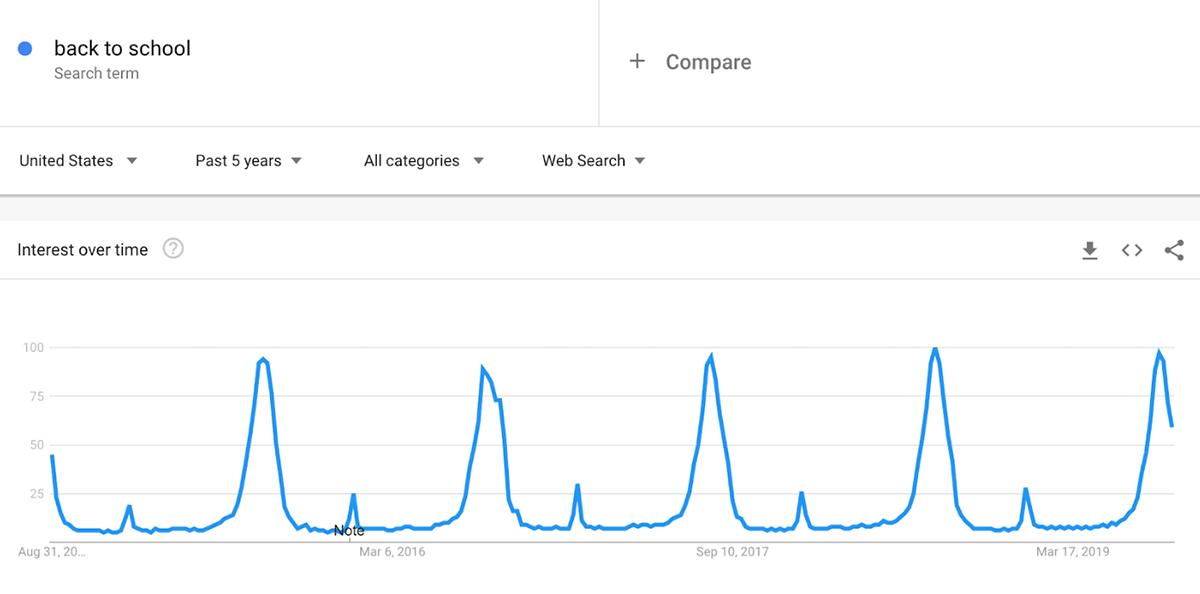 Another trend popping up is back-to-school search terms that are likely to activate on mobile. Mobiles would be used heavily amongst parents, with 60% of parents planning to use mobile devices for their start-of-year shopping and 30% planning to do at least a quarter of their back-to-school shopping on mobile. More people are getting comfortable having their mobile devices guide their purchasing behaviour. According to AdAge consumers are spending a lot more time with their research and purchase-decision phases, and most of that is done online.
Brands and retailers should be prepared to reach those shoppers through mobile websites and apps as consumers hunt for the best deals on school supplies, clothing and electronics — especially considering how many shoppers use their smartphones to compare prices as they browse the store aisles.
Needless to say, retailers need to ensure that they're providing a superb mobile shopping experience to their customers. It is extremely important to have an optimised website, and strive to provide a seamless experience across channels.
Moreover, social media influencers, such as YouTubers or online television personalities, are becoming more and more prominent in ad campaigns as well. As a result, it's important to be prepared with effective back-to-school marketing campaigns, especially using Facebook and Instagram Ads.
Working with our clients has made us understand how important back-to-school campaigns can be for the entire e-commerce industry. We wanted to show you, as the marketer responsible for revenue delivery how you can get yourself ready for your upcoming back-to-school campaign using the insights we summarised based on our research.
Want to book a demo before diving into how you can use ROI Hunter for your back to school campaign? Book a demo to learn more.